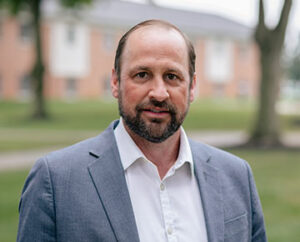 (This article was written as part of LBC | Capital's News Writing course within the Communication & Media Arts Department.)
Often seen coming to class with a coffee cup in hand, Dr. Daniel Spanjer is the Chair of the Lancaster Bible College Arts & Sciences Department and a history professor. His PhD in history is from the University at Albany, and he earned a bachelor's degree in history from Nyack College.
Yet most LBC students remember and know him because of his history classes on the Lancaster campus and the intense work required for his exams. Here, his students recollect their workload, studying methods and memories of Dr. Spanjer.
Mary Schlenker ('23), an elementary and special education major, says the exams and quizzes are the hardest parts of his class, and senior social work major Deanna Graber ('22) agrees. She's taken Dr. Spanjer's Christian Political Engagement class (co-taught with Dr. Joseph Kim), as well as courses on the Arab Israeli Conflict and Greece, Rome and the Early Church.
Graber says the exams and "large papers" were difficult. Other students agree that the papers constituted the most difficult parts of Dr. Spanjer's classes.
"The research paper at the end is always kind of stressful because he grades it so particularly," said Seth Pawson ('23), a business major who has taken U.S. History I and II with Dr. Spanjer.
Another student, however, doesn't believe believes Dr. Spanjer's classes are difficult.
"I don't think his classes are hard," said Healthcare Management major Jurnee Acosta ('24). "I think you have to know how to study for the tests and that's about it."
The exams pose perhaps the greatest challenge, so how can a student prepare for them? Studying plays a large role, and Graber and Schlenker have used specific methods to enhance their studies.
"During Arab Israeli Conflict, I started making charts and timelines with two friends in the class, and we studied together before exams," Graber said. The charts and timelines helped her understand people and events.
Schlenker employed a slightly different tactic with her notes. She took a lot of notes and created quizlets inside those notes. "I'm a big fan of quizlets," Schlenker said. Her class also created a study group to discuss the study guide questions and compare notes.
Acosta attempted to take as many notes as possible. She was also sure to notice when Dr. Spanjer mentioned whether a section would be on an exam.
"In the last lecture he had, he mentioned four reasons why World War II started—so you write down those points and think about them, so you have something to write about," Acosta said.
Pawson used a strategy similar to Schlenker's. "What I'll do is go through that sheet he has and review my notes and … type out all the answers I know and respond to the review sheet." Pawson then spends the night before the exam reviewing all he's written.
All this effort for the exams makes Dr. Spanjer's classes daunting. Yet, why does Dr. Spanjer make his papers and exams so challenging? "He wants to make sure we actually understand it," Schlenker said, adding that she thinks Dr. Spanjer wants his students to really learn and think through what they're being taught.
Graber agreed. "I think that Dr. Spanjer really wants his students to not just regurgitate information on a test but to truly expand their minds and think through the concepts and understand," she said.
Acosta is on board with this line of thinking as well. "I think you actually learn something, and he wants to cultivate a generation where you ask questions and where you don't just take his opinion on things," she said.
Although his exams are difficult, Dr. Spanjer's students hold fond memories of him. "He would come in … almost every day and bring in coffee," Schlenker said. "He would make a joke out of that."
Her Greece, Rome, and the Early Church class was small, and according to Graber, Dr. Spanjer often went off topic, which she enjoyed.
"Dr. Spanjer would start preaching, and I always loved it when I could see his love for the Lord and dedication for him come through in his lectures," said Graber, who also recalls Dr. Spanjer remembering his students' names very well.
Difficult exams and papers mark Dr. Spanjer's classes, yet those who leave them remember their professor's love for his students and the subject matter. Hopefully. the methods used by past students can prepare future students to fully enjoy his classes, do well on his exams and excel in the course.
(Noah Lynch ('22) has written many articles for Lancaster Bible College's online newspaper, Focus. Carolina Luciano Burgos ('21), a native of Puerto Rico, has also written many articles and drawn cartoons for Focus.)