Lancaster Bible College's 2021 Total Percussion Seminar kicks off June 22-26 and is designed for the student percussionist to strengthen musicianship and fundamental percussion technique. This exciting, five-day event includes clinics, master classes and hands-on instruction on concert percussion, drum set, world drumming, music technology and audition preparation.
Set for 9 a.m. to 3 p.m. each day in Good Shepherd Chapel on LBC's Lancaster campus, the seminar is open to individuals 14 years and up. This event is ideal for middle school, high school and college percussionists; adult percussionists are also welcome to join.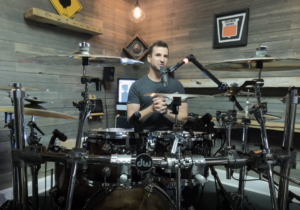 The seminar will feature talented guest artists. Matt Greiner is known for raising the bar on heavy-metal-drumming. His powerful, precise, fast, groovy and creative drumming is gaining him attention and earning him accolades all over the world. Greiner is the touring drummer and founding member for the Grammy Award-nominated band August Burns Red and co-founder of the drum company Greiner & Kilmer.
Greiner gave participants some insight into what's in store for the week.
"My goal is to give you as musicians the tools to create your own music and, in doing so, find your own sound," Greiner said. "Drumming is by far the hardest thing I've ever done, and I look forward to using that challenge to demonstrate the techniques that I've learned and developed over the last 20 years I've been playing drums. I want to teach you how to practice and play drums in a way that gives you pride and a sense of purpose."
Watch a special invitation video from Matt Greiner here.
In addition, the college worship band MBSSY will engage with students throughout the seminar. This group offers dynamic arrangements and inspiring music.
Watch a performance of MBSSY's original composition, "More Than an Experience," here.
Clinicians for the week also include:
Brent Behrenshausen, Director of the Total Percussion Seminar and LBC Adjunct Professor
Paul Murr, Millersville University Adjunct Faculty and Lancaster Catholic Music Coordinator
Daniel Mark, TPS Mallet Percussion Specialist and Percussion Director of the Kutztown University Marching Band
Students will also take part in percussion ensemble and marching percussion rehearsals throughout the week, and they will present a showcase performance open to the public on the final day. Fees for the seminar include hands-on instruction, ensemble rehearsals, materials, snacks and door prizes. Students will need to provide their own packed lunches. Seminar sponsors include: Vic Firth, Zildjian, Drums Etc. and DW Drums.