LBC | Capital is excited to present a musical this fall that will delight families, kids of all ages, and the young at heart.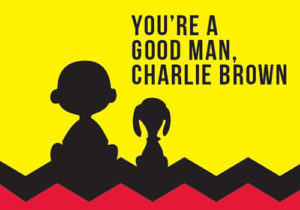 The student-directed and student-performed production of "You're a Good Man, Charlie Brown" will begin streaming the weekend of Oct. 9, with four performances scheduled for the following times:
7 p.m. Friday, Oct. 9
2 p.m. Saturday, Oct. 10
7 p.m. Saturday, Oct. 10
2 p.m. Sunday, Oct. 11
The musical-comedy "You're a Good Man, Charlie Brown" debuted off-Broadway in 1967 in the East Village neighborhood of Lower Manhattan. With music and lyrics by Clark Gesner, the show is based on characters created by cartoonist Charles M. Schulz in his comic strip "Peanuts." Musical numbers include "You're a Good Man, Charlie Brown," "Schroeder," "Snoopy," "My Blanket and Me," "The Kite," "The Doctor Is In," "The Red Baron," "The Baseball Game," "Glee Club Rehearsal," "Suppertime" and "Happiness."
If you already have your streaming tickets [get them here; streaming opportunities are limited], LBC | Capital has some fun family time ideas to make your afternoon or evening of watching the show even more memorable.
FUN FOOD
Charlie 'Brownies:' After lunch or dinner, whip up some brownies, either from scratch or using a box mix. Give them some Charlie Brown character by icing them yellow and decorating with the iconic zig-zag stripe from Charlie's shirt. Or add 'Peanuts' (see what we did there?) or 'Peppermint Patties' (wink, wink).
Woodstock's Bird Nests: Check out this easy recipe from AllRecipes.com that calls for just four ingredients, and the kids can help, too!
Snow Cones: Remember the Snoopy Sno-Cone Machine? Make your own snow cones at home in a blender with a recipe and instructions from Hamilton Beach.
BEFORE THE SHOW
Get in Peanuts mode by searching for some of these family-favorite programs on television and streaming services:
"A Boy Named Charlie Brown" and "Snoopy Come Home" on Hulu (subscription required)
"The Peanuts Movie" on Amazon Prime ($3.99 rental)
"Snoopy in Space" on Apple TV+ (subscription required)
And don't forget to check local listings for airings of the 1966 special, "It's the Great Pumpkin, Charlie Brown," which usually beings airing in mid-October.
DURING THE SHOW
LBC | Capital Education Department faculty created a fun BINGO game families can play together while watching the performance. Download the BINGO cards here, print, then try to fill the spaces as you see each item within the scenes.
YOU'RE A CLASSIC, CHARLIE BROWN
Did you know Lancaster Bible College students also performed "You're a Good Man, Charlie Brown" on Jan. 21-22, 1977? According to the yearbook from 1977, Joe Westover starred as Charlie Brown, Mary Ross played Lucy, Ed Short was Schroeder, Rick Clark was in the role of Linus, Kim Wise played Patty, and Sharon Walter was Snoopy. Pianist was Mabelle Weir, the Director was John Lawrence, and Faculty Advisors were Joan Tompkins and Doug Cook.
THIS YEAR'S CAST & CREW
The college is looking forward to welcoming viewers via streaming to this fun and exciting production that features the talents of our amazing students!
Director
Cassidy Wray Martin '21
Director's Mentor
Dr. Robert Bigley
Music Director, Band Leader, Keyboard 2
Brianna Brady '21
Vocal Coach, Music Director's Mentor, Rehearsal Pianist, Keyboard 1
Kendra Bigley
Technical Director
Melanie Smith '21
Technical Director's Mentor
Kurt Lesh '18
Stage Manager
Alexis Clingan '22
Stage Manager's Mentor
Mike Barker
Lighting Designer
Noah Light '22
Lighting Designer's Mentor
Tim Moser
Video Director
George Haines, '21
Video Director's Mentor
Ryan Geesaman
Sound Designer
Byron Hamm
Costume Designer
Jennifer Felty
Set Designer, Props
Mary Boner
Production Coordinator, Guest Services Manager
Ariella Hoover '14
Cast A (7 p.m. Oct. 9 and 2 p.m. Oct. 11)
Charlie Brown: Seth Jerabek '22
Lucy: Melody Griffith '20
Sally: Britt Jarkowsky '21
Linus: Brad Myer '23
Snoopy: Zachary Fernback '21
Schroeder: Brayden Krikke '21
Cast B (2 p.m. and 7 p.m. Oct. 10)
Charlie Brown: Daniel Martin '24
Lucy: Tori Nicktern '20
Sally: Abigail Simiele '22
Linus: Brad Myer '23
Snoopy: Zach Fernback '21
Schroeder: Brayden Krikke '21