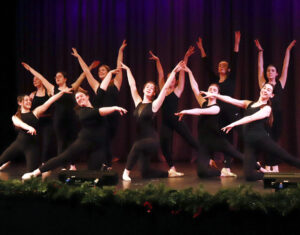 The Lancaster Bible College Dance Company will present an uplifting spring dance performance in Good Shepherd Chapel on May 2.
The showcase will begin at 6 p.m. and will feature student performances choreographed by professional guest choreographer Cody Smith and LBC dance instructor Danika Steinmetz, as well as an adaptation of one of Bob Fosse's original works.
The performance runs under an hour and will also feature dance performances by LBC faculty and friends. Tickets can be reserved at lbc.edu/events and are pay-what-you-will. Proceeds will help fund future LBC Dance Company performances.
Not only have the months-long rehearsals and the upcoming performance prepared LBC students for their future careers in performing, choreography, directing and teaching, but these experiences in the arts have also brought students together in community.
"Having a dance performance ensemble, open to performance majors and non-performance majors alike, has also brought together students from all over campus to connect, collaborate and make beautiful art together to the glory of God," Steinmetz said.