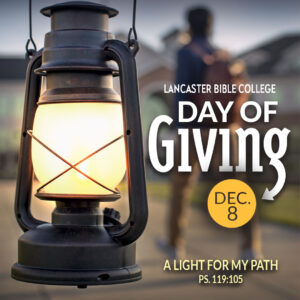 On Thursday, Dec. 8, Lancaster Bible College | Capital Seminary & Graduate School will host a Day of Giving! On this special day, the college will focus on the theme of "A Light for My Path" (Psalm 119:105) as we seek to strengthen the Community Scholarship Fund and light a path for our students to continue to think and live a biblical worldview and to proclaim Christ by serving Him in the Church and society.
Details About the LBC Day of Giving & Ways to Get Involved
When: Thursday, December 8, 2022
Where: Give from anywhere, safely and securely. On the Lancaster campus, activities are set for the Student Center, where student callers will connect with alumni, donors and friends. Faculty, staff and students can drop in any time, all day, for free coffee, snacks and donuts. While there, making a gift online or via mobile device is easy.
How to Give: Head to lbc.edu/give for all donations! In the coming weeks, a special dropdown menu and giving button will enable generous donors to have their gifts applied to the Day of Giving. Every gift—no matter the amount—is important and appreciated.
Match Game: For 2022, LBC | Capital has been blessed to receive a $150,000 matching gift, so the first $150,000 raised on December 8 will be matched dollar-for-dollar!
Spread the News: Will you consider telling others about donating to the LBC | Capital Community Scholarship Fund? Whether it's through social media or word of mouth, would you tell others about the college's 2022 Day of Giving?
PRAY!: Please pray for our efforts? Over 97% of our students receive scholarship aid from the Community Scholarship Fund, and each year, LBC | Capital raises $2.05 million for this fund. This Day of Giving will go a long way in helping the college achieve our goal so students can continue to thrive and live out the LBC mission to "think and live a biblical worldview and to proclaim Christ by serving Him in the Church and society."