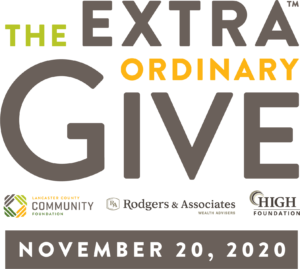 Autumn in Lancaster County, Pennsylvania, means crisper air, falling leaves, beautiful colors and a time of thankfulness. Fall also means that the Extraordinary Give, Lancaster's largest day of online giving, is right around the corner. For those who are in tune to the wonderful work non-profit organizations are doing in the community, Extra Give 2020 – set for Friday, Nov. 20 – is a chance to help organizations continue their amazing service, fulfill their missions and realize their visions.
Lancaster Bible College | Capital Seminary & Graduate School will again be a part of Extra Give. In 2019, nearly $210,000 was donated to LBC | Capital's Community Scholarship Fund, which helps students follow God's calling for their lives and empowers them to receive a life-changing education at LBC. Last year's generous gifts allowed the college to sponsor 210 students. The 2020 Extra Give goal is $250,000, which is about 10% of the overall annual giving goal of the Community Scholarship Fund. Plus, 100% of donations to LBC | Capital during Extra Give will go directly toward student scholarships.
These scholarships directly help students like Avery, Francis and Abigail.
Avery, a sophomore Communication major, is working toward a career in public relations right here in Lancaster. As her scholarship from LBC | Capital allows her to grow in her faith while pursuing her education, Avery hopes to serve others to the best of her ability, using the gifts God gave her.
Francis is a sophomore Pastoral Ministry major at LBC | Capital. The scholarship he received is enabling the Ghana native to become a pastor here in the United States. Francis says he enjoys digging into the Word of God with his professors, fellow students and coaches. "It's a true blessing to be here," he says.
Abigail, a junior Musical Theatre major, hopes to use her degree to teach and work with under-privileged children through drama and music. She shares that her scholarship from LBC | Capital is helping her follow God's calling for her life.
Since 2012, the Lancaster County Community Foundation has spearheaded this annual November event, and this year, hundreds of organizations are already signed up to participate in the one-day event that starts and ends at midnight. Anyone can donate to participating organizations – including, of course, LBC | Capital – by giving through the Extraordinary Give website at extragive.org.
To make the giving process even more exciting, gifts can be stretched and multiplied through matching grants and bonuses throughout the day. For example, beginning at 12:01 a.m. Nov. 20, a $500 prize – in fact, 20 prizes totaling $10,000 – will be awarded to the first 20 organizations that receive 50 donations from unique donors!