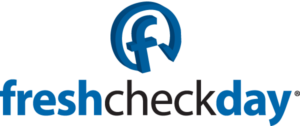 As assignments pile up, project season begins and deadlines creep closer, it's important for college students to keep their well-being in check. Lancaster Bible College is passionate about helping its student body in all things related to mental, physical, emotional and spiritual health, which is why the college's Health & Wellness team hosted a Wellness Fresh Check Day on March 24.
Planned to become an annual event at LBC, Wellness Fresh Check Day is an opportunity for students to both serve and be served. Student body participants and learned about suicide prevention, found out how to help friends in crisis and heard uplifting and informative presentations on mental health. LBC's Student Athletic Advisory Committee, Peer Wellness Mentors, student-athletes, Student Affairs and The Ally Center joined together to promote mental health awareness during this special two-hour event.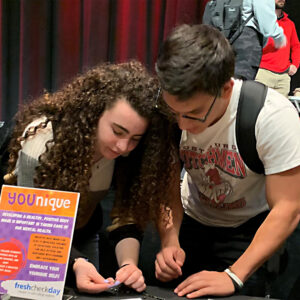 "For years LBC has hosted a yearly Wellness Fair," said Tricia Schlegel, Director of Health & Wellness at LBC | Capital. "And as we envisioned what our Wellness Fair would be this year, we wanted to create a space where conversations about mental health would offer high student involvement, peer-to-peer messaging and ultimately portray the message of hope. Fresh Check Days, sponsored by the Jordan Porco Foundation, gave us the framework to meet our goals and our students' needs."
Fresh Check Day is a national observation created by The Jordan Porco Foundation, which has a mission to promote hope in young adults who struggle with mental health and suicidal thoughts. The goal is that Fresh Check Day will bring campus communities together to "check-in" on one another.
For LBC | Capital's Fresh Check Day, the Good Shepherd Chapel was the setting for more than a dozen interactive booths featuring activities, games, snacks, prizes and peer-led messages—all with the goal to encourage the student body.
The student-focused booths for LBC's Wellness Fresh Check Day included the following (and scroll for more photos):
Nine out of Ten
Empowers students to learn the warning signs, resources and action steps needed to help a friend in crisis so everyone can play a role in suicide prevention. Students pledge to be one of the Nine out of Ten to help the one in ten college students who contemplate suicide.
Uplift
Students write their stressors on a wooden board and then break the board. This powerful exercise promotes self-care and wellness as important components of taking care of mental health and general well-being.
Boost
Focuses on "soul stretching" and the benefits of physical health and its positive impact on mental health.
Water from the Well
Features a prayer board, worship music and community prayer, while focusing on how the spiritual disciplines of worship and prayer can profoundly improve mental health.
Ribbons of Reasons
Students write profound reasons to stay alive on a ribbon. Ribbons are then weaved together into a beautiful mosaic, as students learn how to help a friend in crisis.
It Takes a Village
Participants work on no-sew blankets that will be donated to those in need. Highlights the importance of how serving and getting involved relates to positive mental wellbeing
Paint Your Art Out
Focuses on the therapeutic and mental health benefits of art and creativity and how they can serve as a preventative coping strategies.
YoUnique      
Students make "Wear What You Need Bracelets" with positive messages and empowering words and Scripture that put the focus on positive body image, eating disorders, unique self and identity in Christ.
God Is…
Participant work together to create a quilt with Scripture passages to focus on how to support someone who struggles with mental illness.
Gratitude
Students write letters or notes of appreciation to someone on campus that can be placed in their mailbox as they also write down things they are thankful for and post them on a corkboard.
Elephant in the Room
Participants can write down struggles anonymously and shed light on things that are not discussed and cause shame.
K-PETS
Keystone Pet Enhanced Therapy Services welcomed some encouraging human-animal interaction.
U-Belong
An obstacle course that focuses on breaking barriers and creating awareness about the link between learning disabilities and mental health.
Over 175 colleges and universities have participated in the Fresh Check Day, which has impacted the lives of over 169,000 students, and Lancaster Bible College is honored to join these colleges as an environment that cares for the well-being of its students.