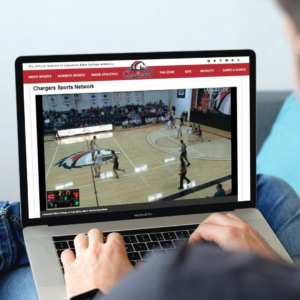 There's nothing quite like the roar of the Charger Nation crowd, as fans pack Willis & Martha Herr Stadium or the "Red Sea" student section of Horst Athletic Center to cheer on their teams.
But Lancaster Bible College knows that even the most dedicated Charger sports fans can't always get to the games in person, and this includes parents, grandparents, alumni, friends and even former teammates and coaches who may live far from Lancaster County.
But never fear—LBC has several ways to keep up with all the Charger sports action.
1. Stream home games online.
Through the Charger Sports Network, fans can watch virtually every home athletic contest live on the LBC Athletics website. Visit this link to see the upcoming games on the upcoming live-stream schedule or bookmark this easy-to-remember shortcut—bit.ly/chargersportsnetwork.com.
2. Check out watch links for away games, too.
The best way to find which away games are being streamed is to check out the schedule of the LBC team you're interested in, then scroll down to the away game you'd like to view and click the "watch" link. These broadcasts are usually hosted by the team the Chargers are playing on that college's home turf.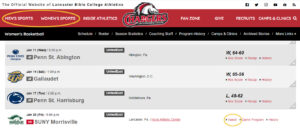 3. Follow @lbcathletics on social media & visit lbcchargers.com.
There's always something new to check out on LBC's Athletics social media platforms—Facebook, Instagram and Twitter—from game announcements, scores, player features and more. The handle for all three is easy to remember: @lbcathletics.
Another way to keep up with Charger sports news is on the LBC Athletics website, lbcchargers.com, which is updated all the time with new content, game results, box scores, previews and more.
4. Subscribe to the RSS feed to get news delivered to your inbox.
Finally, to get regular news and features delivered right to your inbox, sign up for RSS feeds, which is a simple subscription email that puts all of that week's Charger sports news in one convenient email message.
There you have it—4 easy ways to keep up with all things athletic at LBC! Thanks for cheering on the Chargers, sports fans!