Professor David Felty has had a long and impressive career in music and theatre years before he stepped foot onto Lancaster Bible College's campus. The former Broadway performer shares why he transitioned into higher education, his take on Christians in the arts and the best performing advice he's ever gotten.
1. What's your role at the college?
I am the program director for Lancaster Bible College's musical theatre major. Along with that, I am the producer of our main stage productions like the fall musical, the Christmas concert and our January show. This year, because our program is growing, we even had to add another production in April of 2020!
2. Tell us about your time on Broadway and other experiences as a performer. How do they shape the way you teach?
I have had a pretty amazing life as a performer. I even look back fondly on the days when I performed in theme park shows – those are times I grew as a performer. After spending ten years in Nashville and singing with stars like Bob Hope, Barbara Mandrell, Lee Greenwood, Larry Gatlin and others, and appearing on Star Search in two categories, I decided to head north and try out musical theatre. I was cast in the Broadway musical The Civil War. It was a musical written by Frank Wildhorn who also wrote Jekyll & Hyde on Broadway. I then toured nationally with The Civil War musical, singing with the likes of Bebe Winans and John Schneider from the Dukes of Hazard.
After several months touring with them, I landed the National Broadway Tour of Les Miserables. I toured with Les Mis for four years and have played Jean Valjean and other roles several hundred times. I am part of the Broadway actors union, Actors' Equity. All of those experiences onstage – and, maybe, even more importantly – the experience getting to audition for those shows are part of the landscape of teaching opportunities in our program. I know what it is like to fail and succeed in this business and I know what makes an audition and performance successful.
Above: David Felty performs a scene from Les Miserables in support of their 2013 performances of Les Miserables at the Riverside Dinner Theater in Richmond, Virginia.
3. How did you end up in education?
I have always loved doing master class sessions in the musical theatre world and when Dan Hollingsworth approached me about taking over the Musical Theatre program, I knew it would be a challenge but also incredibly rewarding. When I started at LBC, there were three musical theatre majors. This fall, we have nearly 30.
4. Why do you think it's important for Christians to be involved in the arts?
I think it is vital for Christian to be involved in the arts because we need Salt and Light in what can be a very dark industry. In any other situation, we wouldn't hesitate to send missionaries into the world of the Arts, but the reality to really be involved in the field you need to possess or be blessed with a certain ability and talent. It is why our program exists. Plus, in Genesis, it says we were created in God's image. Our God is a creative God. I think we should reflect that quality as well.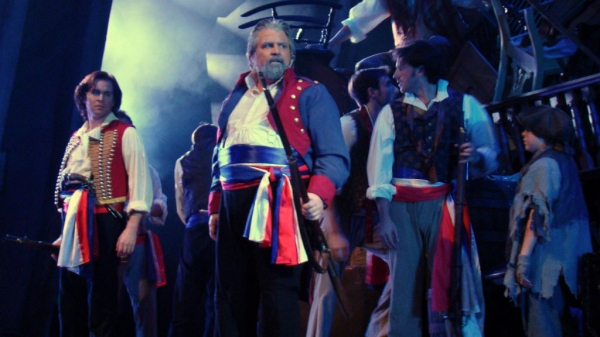 Above: David Felt performing the role of Jean Valjean.
5. How do you integrate a biblical worldview into your program?
More often than not, we bring up real-world situations that actors will face, especially offstage and talk through what a biblical response looks like. We also discuss how to assess whether a show is one we even should take part in.
6. What advice do you have for aspiring performers?
Never stop trying to grow. Never think you have made it and don't need any more training. Even after you graduate, keep pursuing opportunities to grow as a singer, dancer and actor.
7. What's the best piece of performance advice that you ever received?
Treat auditions like a performance and not a job interview. Walk into an audition room feeling like this show needs you in it. Not in an arrogant way, but with confidence that God is with and has prepared you for this moment.
8. What is your favorite show?
Of course, Les Miserables. Though secretly, I love Wicked too.
9. How do you help students prepare for the audition process?
Pretty much in every acting class, we run audition scenarios. They will have done it many times before they graduate.
10. Is there anything else you'd like to add?
We are a rapidly growing program. We have students that are currently working locally and graduates at Sight & Sound Theatres. There is no better time to get involved with musical theatre at Lancaster Bible College.