If you're a junior or senior in high school or homeschool, and you already know that God has called you for a special purpose, Lancaster Bible College wants to give you a jump start on your college education!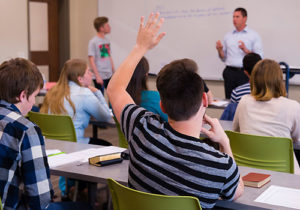 Through JumpStart, our dual enrollment program, high school juniors and seniors can take one tuition-free course each fall and spring semester at LBC's Eden Road campus before graduating from high school. And enrollment for the Spring 2021 semester begins Monday, Nov. 9! In addition to the tuition-free courses, gaining experience in a college classroom and giving students the chance to get a feel for campus life, students who complete nine or more credits through JumpStart qualify for a scholarship if they enroll at Lancaster Bible College.
This beneficial program is for high school juniors and seniors only who are interested in taking courses on campus rather than online. Students must be in good standing with their high school and the college and have a GPA of 3.0 or above. College test scores are also a factor.
Check out some of the advantages of JumpStart at LBC!
Tuition-free college credits
Up to 12 credits as a high school student
Experience in the college classroom
Students who enroll full-time at Lancaster Bible College will receive a $500 scholarship for each semester they are enrolled in JumpStart, for a maximum $2,000 scholarship (renewable yearly with a minimum GPA).
Mark these JumpStart dates on your calendar:
Enrollment deadlines:
OPENS – Monday, November 9, 2020 – Application opens & spring 2021 class offerings posted.
CLOSES – Friday, December 21 (all application documents MUST be received by 4 p.m.)
Registration for Classes:
OPENS – Monday, November 16, 2020
CLOSES – Monday, January 4, 2021 at 4 p.m.
Orientation:
Thursday, January 7, 2021 from 9:30 – 11:30 a.m.
Ready to learn more? Contact our admissions team at admissions@lbc.edu or 866.522.4968