"The people who walked in darkness have seen a great light…"
That portion of a verse from Isaiah 9 (ESV) has perhaps never been more true than in 2020. And the LBC | Capital Music, Worship & Performing Arts Department wants to make sure all within the college and local community—and beyond—see a great light this Christmas.
The 2020 Christmas Concert, titled "Light of the World," will stream for free in 2020, with the viewing link live at 7 p.m. Friday, Dec. 11. The concert will then stream all weekend, through Sunday evening, Dec. 13, as well as again on Christmas Eve.
Surrounding counties will also be treated to the special concert, which will air on WFMZ-TV at 8 p.m. Saturday, Dec. 19. WFMZ serves the Lehigh Valley, which includes Lehigh, Northampton, Berks and Carbon counties in Pennsylvania, as well as Warren County in New Jersey and the Allentown / Bethlehem / Easton areas. Viewership also comes from portions of Monroe, Schuylkill, Bucks, Chester, Delaware and Montgomery counties in Pennsylvania, along with Hunterdon, Mercer, Burlington, Camden and Gloucester counties in New Jersey. See ways to watch the WFMZ broadcast here.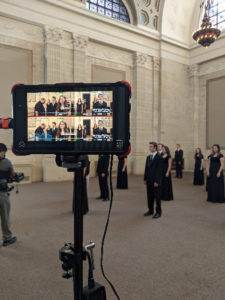 The 2020 Christmas Concert was filmed on the Lancaster Bible College campus, as well as in well-known spots around Lancaster County.
"This year's concert features several ensembles made up of our talented students," said Director of Choral Studies Dr. Robert Bigley. "As you can imagine, recording a Christmas concert during a pandemic created unique challenges as well as unique opportunities for collaboration. We could not have pulled this off without the dedicated work of the students and faculty of our Communication & Media Arts Department as well as several local professionals. I applaud our amazing students, who were flexible and patient as we all adapted to a new process, while joyfully praising God through song with the talents He had given them—all for His glory. He is indeed the Light of the World. And we can rest on this fact today, tomorrow, throughout the Christmas season—and forever."
View the full "Light of the World" program and list of directors and performers here.