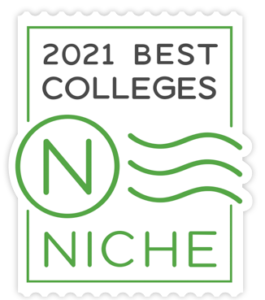 Lancaster Bible College | Capital Seminary & Graduate School has been named to the top 25 schools on the 2021 Best Colleges for Religious Studies in America list from Niche.com.
According to Niche, the Best Colleges for Religious Studies ranking is based on key statistics and student reviews using data from the U.S. Department of Education.
LBC | Capital, ranked at No. 25 of 411 schools, joins elite colleges and universities such as Harvard, Princeton, Duke, Notre Dame, Brown, the University of Pennsylvania, Emory and Georgetown for the ranking.
A few of the five-star student reviews for LBC | Capital on Niche.com include the following:
"You learn how to apply the biblical scriptures to every aspect of your lives and how you are able to impact those in the community."—Senior
"Lancaster Bible College is a unique and extraordinary learning experience with very knowledgeable professors who bring you to a deeper understanding of the subject."—Junior
"I love Lancaster Bible College, because it is like a home away from home. It offers a family from administration to students. The academic, athletic, arts programs are all great as well."—Sophomore
"I am doing online classes through LBC | Capital, and I am only a few classes in but I have loved the experience so far. Everyone has been so helpful and kind, ready to answer any question I might have. The tutoring department has been an excellent resource for me many times already. I am so glad I choose Lancaster Bible College!"—Freshman