Marhaba (hello) from Beirut!
It's the end of the second day our Journey Team spent in beautiful Lebanon. We are doing well, recovering from jet lag and enjoying all we are learning so far. The Lebanese people are some of the most hospitable, generous people I have ever met. It is truly an honor to engage with them. I see the Father's character reflected in our new friends' lives.
After a filling breakfast at our hotel this morning, we took a short bus ride to the Howard Karagheusian Commemorative Corporation, the center where our team is serving. Serop (the center director and our team's coordinator) explained to us the history of the center, who they are, and what they are doing. The H.K. Center recently celebrated its centennial anniversary of serving the vulnerable local population, which includes a large number of Armenians. The demographics of Lebanon drastically changed in 2011 when the Syrian crisis ramped up. Lebanon's population is now 1/3 refugees. The number of people needing assistance naturally increased, and so did the response of the H.K. Center.
Today, our team experienced home visits with some of the social workers, psychologists and nurses of the center. We split into small groups and shadowed the staff as they delivered medicine or support and checked in on the families. It was an honor for me to sit in the home of a Syrian family. A daughter and her husband with three young adult children care for her elderly mother. In many ways, as refugees, they do not have a bright future in Lebanon, but at least they are safe. They fled their home in Aleppo for safety as the bombings increased. Today the mother commented, "At least here I can sleep peacefully."
I had another unique experience today. After the home visit, as Serop walked us through the streets back to the center, he stopped at a shoemaker's shop to show us the work. As he conversed with the older gentleman, Serop learned that the man walked with a cane, suffered from numbness and pain in his leg from a previous accident, and struggled financially. He was able to get the man's information and offered free healthcare services from the center. The shoemaker was so grateful for Serop's help that he wanted to offer a gift of thanks. He gave a pair of sandals to me and the other young lady (a Brazilian medical intern) with us! Later that day, a physical therapist from the center visited the shoemaker and was able to establish a plan for assisting him. Through this, I saw a divine appointment where God matched someone in need with a member of His body to help meet that need. I also saw hospitality expressed again. What the shoemaker had, he gave generously.
Please pray for continued energy, flexibility, joy, and grace for our team. We are all being stretched in different ways, but it encourages me to see others step out and grow. What a fantastic group of Christ-followers to grow alongside! Shukran (thank you)!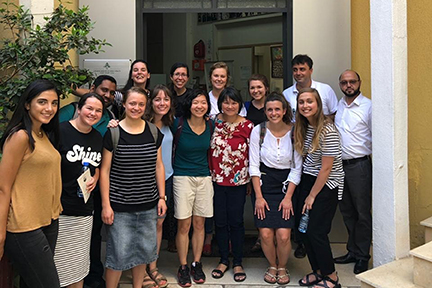 LBC Journey Teams travel to the furthest corners of the world to live out the Gospel message. The Lebanon Journey Team is partnering with a health care center in Beruit, Lebanon, to the local at-risk families and Syrian refugees. Follow along with students on the team as they share how God is at work!