The school was filled today with 250 laughing children, 30 full-time summer volunteers, and 12 eager Americans all sharing one life-impacting experience together. Our team began the day prayerfully preparing to share the Gospel and the story of David and Goliath with the children. Yesterday, we hand-crafted a skit to entertain them during the Bible story, and Professor Praveen even played Goliath! His billowing laugh made each child smile. Grace played a brave David and the other members on the team filled in where we were needed while Deborah enthusiastically narrated. The children were also enthused with the songs prepared by Summer, Mic and Professor Praveen. These songs filtered through our minds throughout the day, and we noticed the children reciting the song that taught them how to say "hello" in eight different languages! We also provided fun games, like extreme rock, paper, scissors (one of their favorites), for them to bond together, and an application for them to leave the classroom encouraged by.
Upon reflecting on our day, we all agreed that seeing the children light up and talk about Jesus was unforgettable. We were excited that they knew God saved David from Goliath, and we continue to pray that they know that Jesus saves them and invites them to know and experience God's unconditional love. During our free time in the afternoon, our incredibly kind host, Serop, invited us to meet and talk with an Armenian Catholic Priest and participate in a once in a lifetime cross-cultural experience. We had the opportunity to hear the Lord's Prayer in Armenian and they heard it recited back to them in English, as we prayed together in the monastery. After our prayer time, we sang a melody to God together and finished by ringing the bell that brought people together to pray for centuries! Following this, we explored the mountainside and grew as a team in fellowship.
Thank you all for your prayers! God is answering them, and His presence is among us. God is opening doors for us to share His Word. Please join us in praying for energy to love on the children and the other volunteers who are serving for the whole summer. We are so thankful to be working alongside our brothers and sisters in Lebanon and are so blessed by your partnership with us!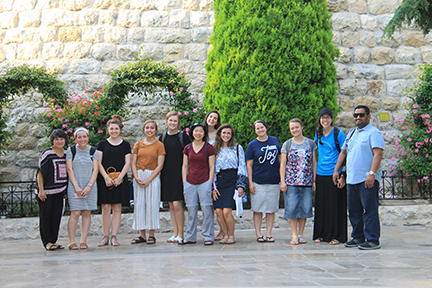 LBC Journey Teams travel to the furthest corners of the world to live out the Gospel message. The Lebanon Journey Team is partnering with a health care center in Beruit, Lebanon, to the local at-risk families and Syrian refugees. Follow along with students on the team as they share how God is at work!