In 1926, radium was a miracle cure, Nobel Prize winner Marie Curie was an international celebrity, and luminous watches were the latest rage—until the girls who painted the watch faces with radioactive paint began to fall ill with a mysterious disease.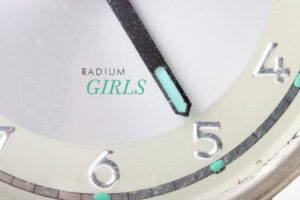 On Sept. 10-11 and 17-18, 2021, Lancaster Bible College students in the Music, Worship & Performing Arts Department will present "Radium Girls," a play by D. W. Gregory. Inspired by a true story, "Radium Girls" traces the efforts of Grace Fryer, a dial painter, as she fights for her day in court.
Tickets for the Black Box Theatre production at The Trust Performing Arts Center are limited and suggested for ages 12 and up. Visit lancastertrust.com or lbc.edu/events.
In the telling of this real-life drama, Grace's chief adversary is her former employer, Arthur Roeder, an idealistic man who cannot bring himself to believe that the same element that shrinks tumors could have anything to do with the terrifying rash of illnesses among his employees.
As the case goes on, however, Grace finds herself battling not just with the U.S. Radium Corporation but with her own family and friends, who fear that her campaign for justice will backfire. Written with warmth and humor, Radium Girls is a fast-moving, highly theatrical ensemble piece that has been called a "powerful" and "engrossing" drama by critics.
"Radium Girls" performances are set for the following dates and times.
7:30 p.m. September 10
2 & 7:30 p.m. September 11
7:30 p.m. September 17
2 & 7:30 p.m. September 18
The Cast
The Women in the Factory
GRACE FRYER: Mackenzie Islip '22
KATHRYN SCHAUB: Damaria Quick '23
IRENE RUDOLPH: Delaney Bigley '23
MRS. ALMA MACNEIL: Korri Slamans '23
The Company Men
ARTHUR ROEDER: Kent Ehrman '23
EDWARD MARKLEY: Carter Rutkowski '24
C.B. 'CHARLIE' LEE: Brad Myer '23
DR. VON SOCHOCKY: Daniel Martin '23
Their Family and Friends
TOM KREIDER: Alex Vogelgesang '24
DIANE ROEDER: Kristin Hurdleston '21
HARRIET ROEDER (young): Mary Ellen McVicker '24
HARRIET ROEDER (old): Delaney Bigley '23
ANNA FRYER: Sarah Vogelgesang '23
The Advocates
KATHERINE WILEY: Korri Slamans '23
RAYMOND BERRY: Seth Jerabek '22
The Scientists
CECIL DRINKER: Seth Jerabek '22
HARRISON MARTLAND: Ethan Goss '24
JOSEPH KNEF: Daniel Martin '23
MARIE CURIE: Kristin Hurdleston '21
FREDERICK FLINN, Ph.D.: Carter Rutkowski '24
The Press
REPORTER (JACK YOUNGWOOD):  Ferdinand Madara '23
SOB SISTER (NANCY JANE HARLAN): Abigail Simiele '22
The Witnesses
WILLIAM J.A. BAILEY: Seth Jerabek '22
MRS. MICHAELS: Christina Felix
SOCIETY WOMAN: Hannah Lingenfelter '23
CLERK: Hannah Lingenfelter '23
Others
SHOPGIRL: Griselda Jimenez Gomez '24
WIDOW: Sarah Ziegler '22
Production Team
Director and Executive Producer: Kristen Brewer
Assistant Director: Jaime Hilton
Production Coordinator: Brianna Brady '21
Set Designer: Dan Deal
Tech Designer: Seth Barstow
Graphic Designer: Ned Bustard