(This article was originally published in the Winter 2021 issue of The ECHO Magazine.)
If you were given the choice between a stable job in your hometown with your new wife or a difficult job in an unknown area in a foreign country, which would you choose? For most, the first option makes a lot of sense, but former Lancaster Bible College men's soccer star Josiah Groff ('16) and his wife, Casi, felt the Lord calling them to option No. 2—and they've never looked back.
The Groffs left for Juarez, Mexico, in the spring of 2018 as Josiah began Big Picture Soccer, a club that empowers locals to start soccer clubs as agents of change in impoverished communities, and Casi began working at an orphanage she had been connected with earlier in her life.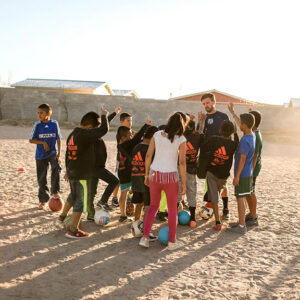 "I have always wanted to use soccer to advance the gospel, but this wasn't exactly what I had in mind growing up," said Groff, a Business Administration major and Intercultural Studies minor while at LBC | Capital. "I had some interest in missions, but my wife always had a heart for missions, and I wanted to test this theory of using soccer to build relationships. So we headed to Juarez where she had previously been plugged in, and we saw fruits of that decision almost immediately."
Groff's theory of using soccer to build relationships in impoverished areas was proven quickly, as Big Picture Soccer saw superb local leaders get on board with the project.
"God seemingly dropped people in our lap during our time in Juarez," Groff explained. "These people were terrific, and the exact people we needed to begin our ministry."
For many children in Mexico, soccer is a means to get away, whether from a rough home life, family financial stresses or simply a way to exercise. Big Picture Soccer's goal was to organize those feelings into an organized club where the kids could not only play soccer but feel valued and learn about the gospel.
"Typically, organized soccer in Mexico is for the rich kids," Groff said. "Our kids usually wouldn't be able to play on a club team, but we don't turn anyone away because of finances. Because of that, we have not only gotten lots of kids but lots of talented kids who are excelling at soccer and gaining confidence about themselves, too."
Groff said it is a multi-pronged situation where, as the club begins to win more games, more and more players from the area start to realize the value of Big Picture Soccer. Therefore, the ministry is beginning to expand its reach in the area.
"We are using a 'both/and' mentality," Groff said. "This isn't just missions. We want to be really good at soccer and excel at missions. If we are successful at soccer, we can build better teams, attract more players and grow our platform."
And while soccer is important and the basis of the club, Groff said he has seen the club make a difference in other long-lasting ways.
"The home life of a lot of our players is tough," Groff explained. "We had a mom and her kids come to a coach's doorstep after trouble at home, and they didn't know where else to go. They came to the coach because of how strong his relationship was with her kids. Our organization was able to meet their needs and get them into short-term housing. The coach was able to share Christ with the family, and they became regular attendees at the local church."
Groff, who scored 27 goals in his three seasons with the Chargers, said he often looks back on his time at Lancaster Bible College and cherishes the lessons he learned from many areas of the institution.
"I couldn't speak more highly of my time at Lancaster Bible," Groff said. "I learned how to take an idea and make it a reality through business plans within the Business Department, and just being around the soccer guys taught me so much about being a leader, building relationships and finding a common goal. Head Coach Tom Ardt helped all of us so much with realizing how to go after a goal and be a team throughout the process."
Groff, the 2015 North Eastern Athletic Conference Men's Soccer Player of the Year, believes success for Big Picture Soccer will look different in each country where a club begins, but for most, it will involve consistent contact, showing and sharing the love of Christ, and earning and gaining trust from individuals and families.
"The club in Juarez is running well and led completely by local believers," Groff said. "We are going to strive to provide quality soccer training but, even more importantly, encourage youth in character development, educational commitment and hope for the future."
Groff isn't sure what the future holds for Big Picture Soccer outside of Juarez, but the group is actively working with other like-minded organizations about where to begin the next project. Wherever that landing spot is, Groff will once again be ready to answer God's call and continue serving others by using the game of soccer as a way to show Christ's love.