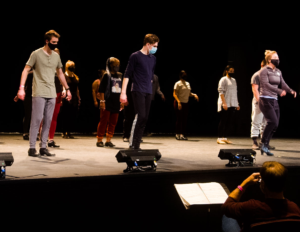 The Music, Worship & Performing Arts Department at Lancaster Bible College is excited for the return of live theatre to campus with performances of the beloved romantic-comedy "Singin' in the Rain." Taking the Good Shepherd Chapel stage March 5, 6, 11, 12 and 13, the tickets for the musical are on sale now at lbc.edu/events, with performances set for the following times:
7 p.m. Friday, March 5
2 and 7 p.m. Saturday, March 6
7 p.m. Thursday, March 11
7 p.m. Friday, March 12
2 p.m. and 7 p.m. Saturday, March 13
For this spring musical, the college will also offer several dates for at-home streaming (streaming tickets can also be reserved, one per household, at lbc.edu/events):
7 p.m. Friday, March 19
2 and 7 p.m. Saturday, March 20
2 p.m. Sunday, March 21
The story for the stage musical, which debuted on June 30, 1983 at the London Palladium, was written by Betty Comden and Adolph Green, with lyrics by Arthur Freed and music by Nacio Herb Brown. The U.S. Broadway debut came two years later on July 2, 1985, at the Gershwin Theatre and was directed and choreographed by Twyla Tharp. In this case, the stage musical came well after the 1952 movie starring Gene Kelly and Debbie Reynolds.
The plot of both the musical and the movie are closely aligned in the 1920s era when popularity of silent films was winding down. The story followed romantic lead Don Lockwood, his sidekick Cosmo Brown, aspiring actress Kathy Selden and Don's leading lady Lina Lamont. Lina believes she has a stellar signing voice, but she actually has more of a voice for silent pictures.
Unfortunately for Lina, talking pictures are the wave of the future, and studio head R.F. Simpson decides to turn the newest Lockwood-Lamont film, "The Dueling Cavalier," into a talkie. Lina's voice is just one of the production's many difficulties. But Cosmo comes up with a plan to dub over Lina's voice with someone who can sing—Kathy. As Don and Kathy begin to fall in love, Lina does everything she can to sabotage the romance. A behind-the-curtain moment finally gives Kathy her due.
Just some of the songs featured in "Singin' in the Rain" include: "Fit as a Fiddle," "Beautiful Girl," "Make 'Em Laugh," "You Are My Lucky Star," "Good Mornin,'" "Would You?" and, of course, "Singin' in the Rain."
Even though the film was only a modest hit when first released—winning a handful of awards and one Academy Award acting nomination—"Singin' in the Rain" has gained legendary status, often called the greatest musical film ever made.
For tickets, contact the Box Office, 10 a.m. to 2 p.m. Monday through Friday, at 717.560.8241 or boxoffice@lbc.edu.
The LBC production of "Singin' in the Rain" will feature a talented cast of students and crew members who are being mentored by local theatre professionals. Check out the cast and crew below:
CAST
(in order of appearance)
Dora Bailey: Mackenzie Islip '22
Zelda Zanders: Delaney Bigley '23
Olga Mara: Hannah Lingenfelter '24
Mary Margaret: Bethany Fasarakis '24
R.F. Simpson: Cassidy Wray Martin '21
Roscoe Dexter: Kent Ehrman '23
Cosmo Brown: Zachary Fernback '21
Lina Lamont: Kristin Hurdleston '21
Don Lockwood: Brayden Krikke '21
Roz: Abigail Simiele '22
Kathy Selden: Brianna Brady '21
Policeman: Ryan Strickland '24
Dexter's 1st Assistant: Britt Jarkowsky '21
Dexter's 2nd Assistant: Seth Jerabek '22
Dexter's 3rd Assistant: Sarah Vogelgesang '23
Wardrobe Mistress: Alexis Bellhorn '23
Hairdresser: Alexis Bellhorn '23
Production Singer: Brad Myer '23
Sid Phillips: Ryan Strickland '24
Miss Dinsmore: Korri Slamans '23
Teacher: Alex Vogelgesang '24
Sound Engineer: Carter Rutkowski '24
ENSEMBLE
Lindsay Felker, Damaria Quick, Hannah Lingenfelter, Alexis Bellhorn, Bethany Fasarakis, Ethan Goss, Ryan Strickland, Laura Aines, Laceyann Riggs, Griselda Jimenez Gomez, Riley Martin
ORCHESTRA
Directed by Dr. Robert Bigley
Reed 1: Doris Hall-Gulati*
Reed 2: Brandon Hollinger#
Reed 3: Christy Banks#
Reed 4: Ryan Kauffman#
Trumpet 1: Matt Landrum#
Trumpet 2: Scott Loose#
Trombone 1: Steve Shiffer#
Trombone 2: Jason Stein#
Violin 1: Tara Kenkelen* & Gabriella Pettis '23
Violin 2: Lydia Talbott '23 & Anna Greiner
Viola: Peter Kenote# & Sarah Ziegler '23
Cello: Sara Male*
Bass: Mike Vitale#
Keyboard: Kendra Bigley*
Percussion 1: Rich Klimowicz#
Percussion 2: Matthew Cross '21
* denotes LBC faculty    # denotes community members
"Singin' in the Rain" is produced by Lancaster Bible College's Music, Worship & Performing Arts Department
Director: Dean Sobon
Choreographer / Assistant Director: Samantha Hewes Cramer
Executive Producer / House & Operations Manager: Ariella Hoover '14
Artistic Producer / Music Director: Dr. Robert Bigley
Assistant Music Director: Britt Jarkowsky '21
Rehearsal Accompanist: Kendra Bigley
Orchestra Liaison: Anne Nye
Dance Captain: Carter Rutkowski '24
Production Stage Manager: Mike Barker
Stage Manager: Madge Chroniger '21
Assistant Stage Managers: Alexis Clingan '21 & Kyli Dowling '22
Casting Director: Dan Deal
Casting Advisor: Jessica Dey
Technical Director: Seth Barstow
Video Director: Ryan Geesaman
Video Producer: Ben Maughan
Set / Scenic / Prop Designer & Coordinator: Katie Moser
Lighting Design: Tim Moser
Audio Design: Jacob Lewis
Costume Coordinators: Char Wilson & John P. White
Wig Design: Brandon Miller
Set Build: JT Schaeffer / Stray Productions
Additional Crew Members
Backstage ASM: Kyli Dowling '24
Deck Crew: Amanda Davis '24
Wardrobe Crew: Paris Black '21
Wardrobe Crew: Mariah Banke '21
Wardrobe Crew: Jordan Noll '21
Wardrobe Crew: Brielle Pfeiffer '25
Lightboard Op: Jackson Hoover '22
Spot Op 1: Noah Light '22
Spot Op 2: Jordan Whittemore '23
Audio Assistant: Joel Lucas '21
Lancaster Bible College also hosted performances of "Singin' in the Rain" a decade ago, depicted in these 2011 photographs: