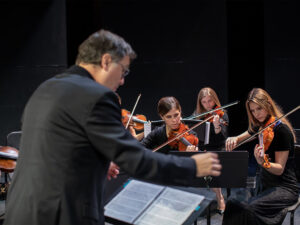 The Lancaster Bible College Orchestra will host its spring concert at 3 p.m. April 10 in Good Shepherd Chapel on the Lancaster campus. Tickets are free and can be reserved at lbc.edu/events.
Directed by Adjunct Professor Dr. Peter Kenote, the LBC Orchestra will perform Gordon Jacob's "Old Wine in New Bottles," comprised of four Old English tunes arranged for wind instruments, as well as Beethoven's "Symphony No. 2." A performance of Francis Poulenc's "Concerto for Two Pianos & Orchestra" will feature Dr. Paul Thorlakson, Chair of LBC | Capital's Music, Worship & Performing Arts Department, and Katrina Joy King ('25), a Music Performance major from Gordonville, Pa.
A Seattle native, Kenote earned degrees from the University of Washington and The Juilliard School in New York City. He has been a member of the New York Philharmonic viola section since 1983 and has performed at Lincoln Center's Rose Theater and with top symphonies around the world.