As the child of immigrants, Nathali Santiago ('20) knew the value of an education was immeasurable. In fact, she's a first-generation college student. Born and raised in the Bronx, New York to Rafael and Maria Nolasco, natives of the beautiful Dominican Republic, Santiago saw firsthand the hurdles her parents, who didn't have college degrees and were navigating the complexities of learning an entirely new culture and language, had to overcome. "Being a first-generation college student means that I am able to achieve a goal my parents strongly desired for their children because they didn't have the opportunity to do so," said Santiago.
So how did this New York native and now New Jersey transplant wind up pursuing her degree online through Lancaster Bible College? Initially, Santiago was enrolled in nursing school, thinking that perhaps a career medicine was in her future. One of her great passions, aside from the Word of God, is service to those in needs. She works at a social services organization called the Family Intervention Program in Westville, New Jersey since. "Our organization provides center based parenting, and in-home support to families with children under the age of six that are at risk of child abuse and neglect," she explained. While she loves her job and feels passionate about empowering families, she still felt the urge to study the Bible in a deeper way. Then, she and her family came to Lancaster for a visit. "I was pursuing a career in nursing when the Lord spoke to me and changed my path," she said.
They went to see a show at Sight & Sound Theatres, and while Santiago flipped through the show's program, she noticed an ad for Lancaster Bible College that intrigued her. After the show ended and the family headed back to their hotel, they passed the college's Lancaster campus. "I knew in my heart I needed to apply," she said.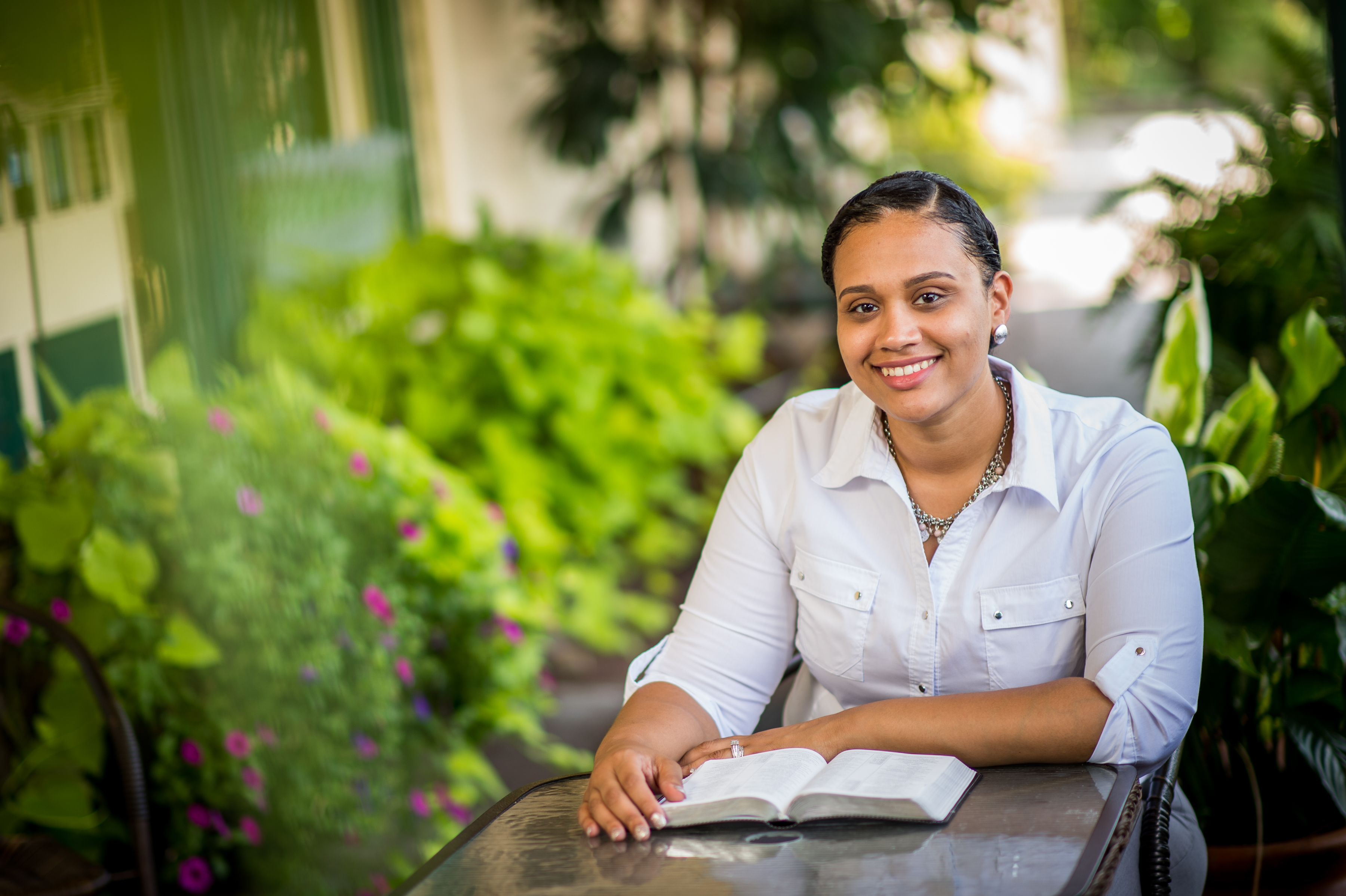 Above: Nathli pauses from her studies to pose for a picture.
Eventually, she did, and today, she's earning her degree in biblical studies with a minor in human services online. While she lives and works in New Jersey, she deeply appreciates the fact that she's able to access LBC's high-quality biblical education wherever she is. "Because I have such a busy schedule, the online program works for me," said Nathali. "It provides me the flexibility I need to manage my personal life, work and ministry. I decided to earn a degree in biblical studies because it is a calling from God. I want to learn in-depth the scriptures so that I can be fully equipped to share the good news of Jesus Christ with others."
While it's tough to incorporate the not-so-simple task of earning a degree into Santiago's already full schedule outside of work – she's also a wife, mom and dedicated volunteer at her church – she says prioritizing school work and the flexibility of LBC's online programs are making it possible. "Time management is key," she explained. "Sometimes, it can be difficult to manage it all at once, but it is important to be responsible and punctual with given assignments." Another factor that's helped her stay focused on the end goal is investing in her relationship with God. "Above all, being consistent in prayer, reading and meditating on scriptures and congregating at my local church is what helps me stay balanced," she said.
Another aspect of the program that attracted Santiago is the life experience credits offered to qualified students of which she was one. "Getting credit for my prior learning experience was so important to me," she said, "I worked tirelessly in ministry and secular work, so I was thrilled to know that all my hard work was paying off."
Her online education continues to pay off. She shared that the lessons she's learned in the online space and through connecting with professors and staff have made a real impact on her day-to-day life. "The most impactful part of my education thus far is the genuine love and care from all staff at LBC," she said. "I was never pressured to attend this college, and before I was a student, I was treated as one. I remember a staff member called me just to pray over the phone, and that made me want to attend this school so much more." Her word of advice to prospective students? "If anyone is considering Lancaster Bible College, I say go for it! You are in for an experience of a lifetime. It really is your journey, their focus."