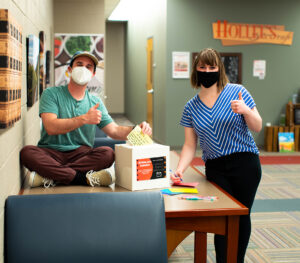 As an extension of a project that began in the fall of 2020 at LBC | Capital, a group of students again spearheaded the Written Care Campaign this spring to equip the campus community to write encouraging notes to students who are in quarantine as a result of COVID-19. These students may be awaiting their own COVID-19 test or waiting for the test results of a friend, fellow athlete, classmate or roommate.
"As students are facing a time of disconnection when having to go into isolation or quarantine, the Written Care Campaign is focused on making these students still feel a part of the LBC campus community," said Liberty Brouillette ('22), a student in the social work program from Annville, Pennsylvania, who is helping to lead the effort to bring the campus community closer through this note-writing campaign.
Liberty enlisted her brother, fellow LBC | Capital student and Business Administration major Miles Brouillette ('22), to "co-star" in a video filmed by Johnathan Albury ('22) that was geared toward students, faculty, staff and alumni.
Students, faculty and staff can write their notes and drop them in boxes at several locations around the Lancaster campus, and the students involved in the project take care of delivering the notes. In late March, LBC | Capital alumni were also sent the video as part of a monthly alumni e-newsletter to learn how they could be a part of the initiative and where to mail their notes.