Throughout the 2023-24 academic year, Lancaster Bible College | Capital Seminary & Graduate School will celebrate our 90th anniversary! Here, we introduce our community to "90 Faces of LBC" each week. Keep up with all the news and events of our 90th year, read stories and more at lbc.edu/90. 
2023 Alumnus of the Year Sharon Roper ('88)
---
Lancaster Bible College | Capital Seminary & Graduate School is pleased to announce that Sharon Roper ('88) has been named the 2023 Alumnus of the Year.
An Elementary Education major at LBC, Sharon went on to earn a master's degree in Educational Leadership from Regent University in 1995. Today, she is the High School Principal at Fredericksburg Christian School (FCS), where she's served since her LBC graduation 35 years ago. Past positions have also included Dean of Students, Director of Development, Athletic Director, Guidance Counselor, Physical Education Teacher and Elementary Teacher. Multiple members of her family also teach and lead at FCS.
"I chose LBC," Sharon says, "because I wanted to prepare for a life of service, and LBC gave me the skills necessary to serve the Lord at FCS." She especially appreciates that LBC's "foundation is God's Word as the infallible Word of God."
Sharon says her LBC education continues to impact her leadership. "I use my LBC training every day as I lead students and staff. Training in the LBC classrooms, as an LBC Resident Assistant and as an LBC athlete all have contributed to the excellent experiences and training I received."
An LBC Corporation Member, Sharon is also very active at Spotswood Baptist Church, where she has taught Sunday School in the past. FCS is also active in the Fredericksburg community, and she enjoys serving with her students in each ministry the school supports.
"I am honored to be named as the 2023 LBC Alumnus of the Year, but all glory goes to the Lord," Sharon says. "I have been blessed by growing up in a family that has a rich Christian heritage and modeled for me what it means to live a life of service to the Lord. Ministering for 35 years at the same Christian school is truly a privilege. I look forward to many more years of service to the Lord as I remain obedient to Him."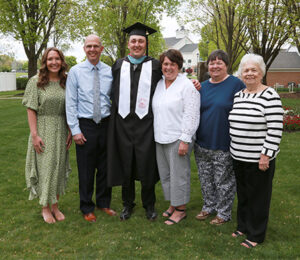 Sharon's family represents an LBC living legacy, with three generations of the Ropers and Shaeffers tied to the college. From left: Emma Shaeffer ('26) is enrolled in LBC | Capital's 4+1 bachelor's + master's Early Childhood/Special Education program and is a member of the women's volleyball team; Jeffrey Shaeffer ('07), father to Emma and Matthew, is a teacher at Fredericksburg Christian School (FCS); Matthew Shaeffer ('23), a Health & Physical Education graduate, is also teaching at FCS; Julie (Roper '92) Shaeffer, another FCS teacher, is mom to Emma and Matthew; Sharon, LBC Corporation Member and High School Principal at FCS; and Joanne Roper served LBC as the Admissions Director from 1984 to 2007. The family patriarch, Dr. Robert Roper, who passed away in 2010, also served LBC for 23 years, mainly as Dean of Students, and was given the distinction of Professor Emeritus upon retirement.
LBC was honored to welcome Sharon to speak in chapel on Sept. 28 during Heritage Week leading up to Homecoming 2023. Congratulations, Sharon!