When Lancaster Bible College | Capital Seminary & Graduate School asked college alumni to share advice with the Class of 2023, they didn't disappoint! Check out these words of wisdom for May 2023 graduates who will soon join the LBC | Capital family as alumni.
"At our graduation in 1963, Rennie Showers prayed this song as a prayer for us. It helped me in many hard moments (from the hymn 'He Giveth More Grace': 'He giveth more grace when the burdens grow greater; He sendeth more strength when the labors increase; To added affliction He addeth His mercy; To multiplied trials, His multiplied peace.'"
—Dolores (Dotterrer '63) Adams
"Welcome! Remember to pursue the doors that God opens and respectfully walk away from those He closes."
—Ruth (Ackroyd '76) Grove
"Congratulations on this very important milestone in your life! May you take all the things that you have learned as a student to prepare you for serving in the world and your community to be a light for Jesus. I pray He will use you mightily for His kingdom!"
—Karen Fox ('03), LBC | Capital Financial Aid Specialist
"Remember to always pay it forward. Think of all of the people who helped you along the way—a parent, a coach, a pastor, a teacher—whoever it was. Strive to live your life in a way that someday you will be in a position to do for someone else what was done for you."
—Bill Coder ('11), LBC | Capital Major Gifts Officer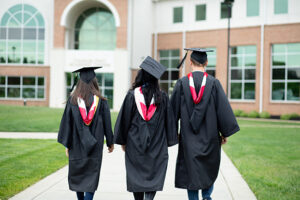 "The world, especially America, is diversifying. If you will be ministering or working in America, you will need to be sensitive to this social and racial diversification. This is an exciting and challenging time for Christians in America. Stand firm on the values of Christ and His Word and seek ways to impact multiculturalism with the gospel."
—David Gundrum ('85), LBC | Capital Board Member & Adjunct Professor
"The battle is the Lord's. Rejoice in the journey and be thankful eternally."
—Tom Hubbard, LBC | Capital staff from 1976-82 in Student Affairs & Athletics; father of LBC Women's Volleyball Coach Julie Brubaker
"Seek God in all of your decisions. The path before you may seem obvious, but always commit your plans to the Lord, for He is the One who directs our steps. He has a better plan for your life than you could ever imagine—trust Him!"
—Stephanie Brussel ('20), Global Admissions Counselor
"I have been blessed to be a two-time graduate of LBC, separated by 46 years of life. I have found the commitment to biblical faithfulness and academic excellence to be present in all my time at LBC. I like to describe my education here to reflect the antithesis of the warning that Apostle Paul gave to young Timothy in 2 Timothy 3:7: 'We are always learning and coming to more and more knowledge of the truth!'"
—Dr. Barry L. Davis ('74 & '23, earning his PhD in Leadership at this May graduation ceremony), Adjunct Professor
"Persevere to the end goal. Life is full of challenges that God will use to refine your soul. The steadfast love of the Lord never ceases. His mercies are new every day, and great is His faithfulness. Therefore, we should have hope in Him (Lamentations 3:20-24). We live in a world filled with hopelessness. Live life as though today was your last day on Earth. Therefore, proclaim Christ and serve Him in your church and in society (LBC mission). A wise missionary friend of mine has a saying that he lives by (now in his 80s and still very active in world missions): 'We are all invincible in the will of God until He calls us home.' (David Wilson, Worldwide Proclamation)."
—Tom Fox (WBC '83, CBS '09 & LBC '23), Adjunct Professor, LBC | Capital – Washington, D.C.
"Life isn't always a straight line going up. Don't be discouraged if your life is a plateau or totally different from what you planned. God is sovereign, and He knows what you need more than you."
—Ethan Jandrew ('22)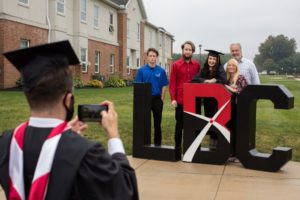 "You may be graduating from LBC, but you never graduate from the School of Life, so don't stress if you're not settled into your dream career right after graduation! The first few years after college are for gathering further skills and experience as you press into what God is calling you to. Just look at many of LBC's wisest leaders and teachers—they've all gathered skills and wisdom over more than just a few years of school. Ultimately, seek God in all things, and you may even find the Spirit leading you to something you never imagined!"
—Christine Elliott ('20)
"Don't fret. Pray that God will open doors in His timing for your next job or next career goals.
Don't neglect devotions. Keep studying God's Word and growing in your love for Him and the Church.
Sweat. Don't be afraid to work hard even if you don't always like what you're doing.
Expect the unexpected. Expect to see God work in unexpected ways to accomplish His good purposes for you."
—Matt Day ('14 & '21), Assistant Director of Public Safety
"No matter the circumstances in life God is always in front of you, waiting for you. Nothing catches Him by surprise, absolutely nothing. He is the God of the valleys in life just as He is the God of the mountain tops."
—Lisa LoConte-Allen ('77)