Lancaster Bible College | Capital Seminary & Graduate School will celebrate a mid-year graduation ceremony on Dec. 16 in Good Shepherd Chapel to mark the accomplishments of 147 graduates.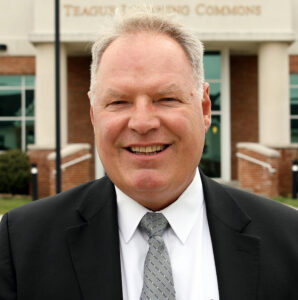 Dr. Lee DeRemer, former Executive Vice President of LBC | Capital, will serve as the Commencement speaker. DeRemer, who retired from the college in May 2022, joined the LBC | Capital family in October 2018 as Vice President of People & Culture and was appointed Executive Vice President in May 2020. As EVP, DeRemer's strategic leadership enhanced both presidential and institutional effectiveness.
Lee and his wife, Marcie, 2022 recipients of WGAL's 8 Who Care Award, founded LIFECYCLES, a 501(c)(3) Lancaster-based youth bicycling ministry that reaches teens across socio-economic, racial and geographic lines. DeRemer also has extensive military experience, having served for 26 years in the Air Force as a pilot commander and Pentagon strategic planner, retiring as Colonel. DeRemer holds a PhD in Values-Driven Leadership from Benedictine University, as well as three masters degrees in Public Administration, Strategic Studies and National Security. He has also taught leadership, organizational culture and strategy at the doctoral, graduate and undergraduate levels and led a leadership and strategy consulting team in Washington, D.C.
Leading up to the Friday ceremony will be Thursday evening awards ceremony and dessert reception for graduates and their families. On Friday morning, President Thomas L. and Shannan Kiedis will welcome graduates and families to a celebration brunch before the 1 p.m. ceremony.
In all, 94 students are earning bachelors degrees, 31 will receive masters degrees, 15 will earn associates degrees, six will take part in a doctoral hooding ceremony to mark the completion of their PhD or DMin degrees, and one graduate will earn a certificate.
Matthew Hayes ('22), an Intercultural Studies major from Belleville, N.J., says that "One of the best ways that LBC prepare me for the future was through the long-lasting connections and deep devotion from its staff and faculty," Hayes shared. "The intention and desire to see students grow is unrivaled, and this has given me tools for not only my vocation but to use the same principles in order to impact those around me through the love of Jesus Christ."