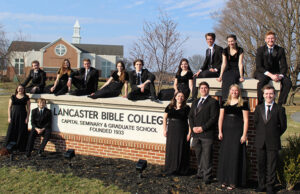 The Lancaster Bible College Chamber Singers received one of the highest honors for a Pennsylvania ensemble by being invited to perform at the Pennsylvania Music Educators Association (PMEA) Annual In-Service Conference in April 2022.
Each year, dozens of scholastic and community music ensembles submit an audition for a chance to perform at the annual PMEA Conference. The conference is attended by music educators from across Pennsylvania and is considered the premiere annual event for professional development and showcasing the work of musicians from Pennsylvania and beyond.
Ensembles invited to perform at the PMEA Conference, held this year at the Kalahari Resort in The Poconos April 7-9, are reviewed by a panel of their colleagues. Successful performing groups are selected based on their musical skill, advancement of their musical genre and a desire to share with conference attendees.
"We are extremely honored to have been chosen to perform at PMEA," said Dr. Robert Bigley, Director of Choral Studies at Lancaster Bible College. "It is a rare opportunity to perform at such a prestigious conference, and we are eager to present one of our outstanding ensembles to an audience of music educators from throughout the commonwealth."
The Lancaster Bible College Chamber Singers, an audition-only acapella ensemble of 14-16 vocalists who are also members of the LBC Chorale, will perform at 4:30 p.m. April 7.
"Having seen many invited performing ensembles at PMEA Conferences through the years, I can say with absolute certainty that Pennsylvania's schools and communities have so much talent in their diverse set of music opportunities," noted PMEA President and retired music educator Phil Stattel. "We love that these groups travel to our annual conference to share their talent and provide a professional development opportunity for their colleagues at the same time."
With a theme of "Together," music educators, students and the music products industry attending the 2022 PMEA Conference will join together for three days of professional development, music making, innovation, networking and being back together in-person for the first time since 2019. More information about the PMEA Conference is available at pmea.net/pmea-annual-in-service-conference.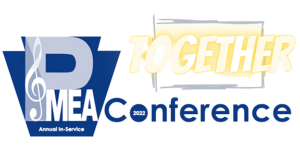 PMEA is a statewide nonprofit organization dedicated to promoting the musical development of all Pennsylvanians. The present membership evolved from a small group of band directors dating from 1933. Today, the organization includes those engaged in music instruction at all levels, from preschool through college and university, as well as those in the music industry, merchandising and publishing. The organization promotes and supports quality music education, learning and performance as well as promoting and supporting music education in schools and communities. PMEA is affiliated with The National Association for Music Education, NAfME. For more information, visit pmea.net.
The Music, Worship and Performing Arts (MWPA) Department at Lancaster Bible College exists to prepare highly skilled artists to influence the culture with grace and truth. Students hone their craft in a community of dedicated artist-teacher mentors and passionate peers, as they gain real-world, practical experience to engage professionally on many levels: in a touring ensemble, on stage as an actor, singer, instrumentalist or dancer; studying privately with a world-class artist-teacher; or preparing for a professional vocational journey in major such as Performance, Worship Arts, Musical Theatre, Music Education and Composition.
   View the PMEA Chamber Singers program here…