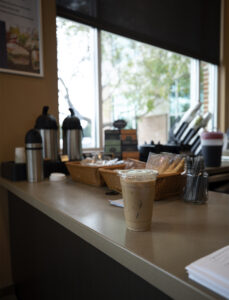 September 29 is a big day for those who are joyous over java. Annually, this fall day is observed in the United States as National Coffee Day. And regardless of whether coffee lovers mark the occasion by paying homage to their favorite beverage or finding ways to score a free cup of Joe, there's no doubt America loves coffee.
And as a new development on the main campus of Lancaster Bible College, the college's coffee suppliers are now local! Plus, LBC's three on-campus cafés have roots to those who helped shape the college to what it is today.
But first, here are five fun facts from the website CoffeeAffection.com:
1. The average American coffee drinker consumes 3.1 cups of coffee per day—or 517 million daily cups total—with 66% of Americans drinking coffee every day, more than tap water.
2. The U.S. ranks 25th when it comes to countries that drink the most coffee per capita.
3. The majority of regular coffee drinkers say they drink it for the flavor, not the caffeine.
4. Black coffee is preferred by more one-third of coffee drinkers.
5. Brazil produces 40% of the world's coffee and is the leader in global production.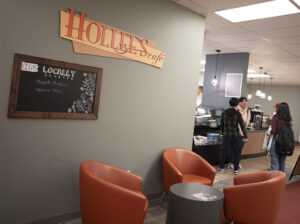 To start the 2022-23 academic year, Hollee's Café on LBC's Lancaster campus introduced a new local coffee supplier: New Holland Coffee Co., a popular roaster with two locations in Lancaster County.
"Through New Holland Coffee Co., we are also bringing Humankind products like tea, lemonade and water to Hollee's and Charlee's," said Ashton Baker, Director of Food Services, for Metz Culinary Management, LBC | Capital's food service partner. "Humankind is an advocate to end the world's water crisis. According to its website, 'Every bottle of our water, tea and lemonade provides at least 50 gallons of clean water to someone in need.'"
With the new coffee launch at Hollee's came a completely revamped coffee menu, Baker shared. These drinks include "all the classics and the favorites"—from Chai Lattes, Hot Chocolate and London Fogs to Matcha Lattes and Vanilla and Mocha Frappes. "We're also bringing in a few newer products from New Holland such as gluten-free and dairy-free craft granola bars," Baker said.
Across campus at Bennee's Bistro, the coffee selection will continue to feature products from Square One Coffee Roasters, an award-winning roaster and worldwide wholesaler based in Lancaster.
For those wondering where the names of the three LBC | Capital cafés originated, there's rich history there, too.
Hollee's Café is named for Rick Kreider's wife, Hollee. Part of the Kreider Farms family, Rick's father, Noah, who passed away in 2015 at the age of 83, was a member of the college's Board of Trustees, and his late mother, Marian, Noah's wife of 57 years, was an active participant on the college's Women's Auxiliary years ago. Rick and Hollee owned a restaurant in Harrisburg called Hollee's Café & Creamery, and, upwards of 15 years ago, generously donated kitchenware and furnishings to LBC. With that equipment, a coffee shop named Hollee's was created in the lobby of the Sebastian Academic Center then eventually relocated to the Student Center.
Bennee's Bistro, housed on the first floor of Teague Learning Commons, was named for Benjamin Olewine, a friend of the college for whom Olewine Dining Commons at the center of campus is also named. Olewine, a Harrisburg native, passed away in 2017 at the age of 96. The Olewine family had a long history in the food industry, first opening a family grocery story in 1905 that became the basis of one of the top 50 full-service wholesale food distributors in the U.S. The company was sold to Sysco Corporation in 1988, and Ben became Chairman Emeritus; he continued to go to his office at Sysco every day until the age of 91. Olewine also generously funded many other organizations, projects and education causes in Central Pennsylvania and around the world, including nature conservation, culinary arts, food banks, libraries and medical centers.
Charlie's Creamery, just inside of the doors of the Charles Frey Academic Center on LBC's Lancaster campus, was named for Charles Frey, a former member of the college's Board of Trustees. Charlie's Creamery pays homage to Frey's dairy roots as one of three sons who purchased Turkey Hill Dairy from their father. Throughout the years, his generosity helped propel some of the most dramatic growth at the college.
The next time you enjoy a cup of local coffee at one of Lancaster Bible College's cafés, you can thank the generous local families who helped make them possible.