The Trust Performing Arts Center will welcome the Dalí Quartet, an award-winning group that tours Classical Roots and Latin Soul programming to enthusiastic audiences across the U.S., Canada and South America, for an afternoon concert on April 22.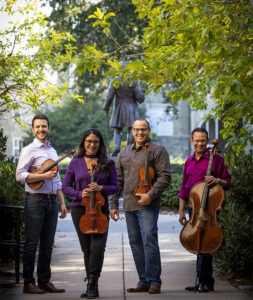 Performing at 3 p.m. in The Trust's Great Hall, 37 N. Market St. in Lancaster, the Dalí Quartet is acclaimed for bringing Latin American repertoire to an equal standing alongside the Classical and Romantic canon. The Philadelphia-based quartet will present works by Villa-Lobos, Ramírez and Tchaikovsky. The Philadelphia Inquirer has called the Dalí repertoire a "beautifully prepared program … the Latin American program alternately glimmered and blazed."
The quartet's fresh approach has been sought out by distinguished series in New York, Toronto, Philadelphia, Washington, D.C., Los Angeles, Seattle, San Juan and communities beyond. The quartet has been called upon for return engagements at the National Gallery of Art, Friends of Chamber Music in Portland, Chamber Music at Beall and the SA'OAXACA International Music Festival in México, among others.
The Dalí Quartet is the 2021 recipient of Chamber Music America's Guarneri String Quartet Residency and the 2021 Silver Medal at the inaugural Piazzolla Music Competition. The quartet is also the 2019 recipient of the Atlanta Symphony's esteemed Aspire Award for accomplished African American and Latino Musicians.
The Dalí is devoted to audience development and to reaching communities of all kinds. The group's Latin Fiesta Workshops and Family Concerts in both traditional and innovative settings move listeners, while the quartet is called upon for master classes and professional development workshops for students, including at the National Repertory Orchestra, Miami University, Michigan State, the University of Wisconsin and the University of Iowa. The Dalí has also opened musical vistas for younger students with its weeklong Any Given Child programs. In addition, the quartet's International Music Festival is an admired chamber music and orchestral program founded in 2004 that develops the performance skills of young musicians through semi-professional level.
Trained by world-renowned artists, members of the Dalí Quartet are from Venezuela, Puerto Rico and the U.S., and have degrees from esteemed institutions including the New England Conservatory, Cleveland Institute of Music, Juilliard, Indiana University Bloomington and the Simón Bolivar Conservatory in Caracas, Venezuela.