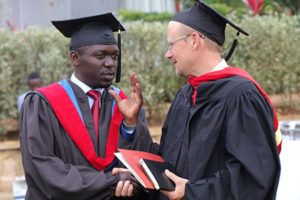 Forty-one graduates from the Classes of 2020 and 2021 celebrated an amazing milestone at the LBC | Capital – Uganda Commencement ceremony on May 29 in Kampala, Uganda, through LBC | Capital's partnership with the Pastors Discipleship Network (PDN), which aims to equip ministry leaders across Africa to proclaim the gospel and to better serve their churches and communities. Two leaders provided Commencement addresses to students and their families, while LBC | Capital President Dr. Thomas L. Kiedis gave the charge to the graduates via video.
Luke Jaymin, M.A., a Pastors Discipleship Network board member and Senior Pastor of Nakawa Pentecostal Church, along with guest musicians provided the prelude, while Dr. Edison Kalengyo, Associate Professor of New Testament & Grants Manager at Uganda Christian University gave the invocation. Dr. Esther Zimmerman, Interim Chair of the LBC | Capital Church & Ministry Leadership Department read Scripture from 2 Timothy 2:1-15, and Joseph Musaalo, M.A., Chairman of the PDN Board of Directors, welcomed graduates and their families and introduced the first Commencement speaker, Peter Kasirivu, M.A., Founding Pastor of Gaba Community Church, Founder and President of African Renewal Ministries and Founder and Chancellor Africa Renewal University.
Robert Blanks, LBC | Capital Program Director for Pastoral Ministry and the Master of Arts in Contextualized Pastoral Ministry, bestowed the Servant Leadership Awards and Pastor Peter Kasirivu Awards and presented the candidates for graduation. An LBC | Capital tradition, graduates also received the Servant's Towel, followed by remarks and a benediction from the second Commencement speaker, Dr. Richmond Wandera, PDN Founder and President.
Taking place on the Pastors Discipleship Network campus, the day was also marked by celebratory African drums and dancing. Congratulations, graduates!
See the Media Coverage in Uganda Christian News Here…
View the Graduation Highlight Video Below:
View a Video of Graduates Worshipping in Song Here and Check Out the Photo Gallery Below:
LBC | Capital Graduate from Uganda Celebrates Another Milestone—Becoming an Adjunct Professor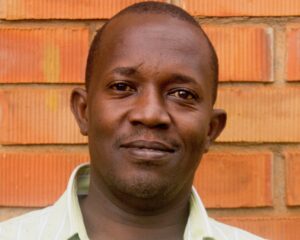 Edward Kibirango ('19), right, after graduating with a Master of Arts in Contextualized Pastoral Ministry in Uganda, is a new PDN adjunct faculty member. Husband to Esther and father to four children, Kibirango is a pastor and elder at Deliverance Church Kasanga in Kampala, where he oversees the Compassion International Child Development Center. He is pursuing a Doctor of Ministry degree from LBC | Capital and is co-teaching the "Issues in African Pastoral Ministry I" course, which deals with two critical contextual issues facing the African church today: the prosperity gospel and poverty and dependence.
At the core of PDN's DNA is "training the trainers"—a model that leverages exponential growth. Before students begin the program, they understand the expectation to pass on what they learn to other Christian leaders. Pastor Kibirango is an example of this vision being fulfilled.
Through the PDN partnership, LBC | Capital equips African pastors to earn a master's degree so they can, in turn, continue the important work of spreading the gospel around the continent and pass on the Good News to future generations.