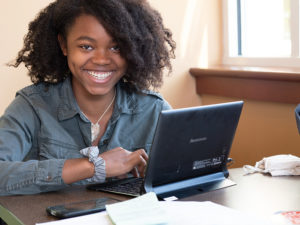 Jurnee Acosta ('24), a Healthcare Management major from Lancaster, Pa., first became interested in healthcare when she picked up a book about animals as a child. Now, about a decade later, Jurnee is on the path to a market-relevant career in an industry with infinite possibilities.
Q: Why did you choose Healthcare Management as the focus of your college career?
A: I want to be a physical therapist, and this major has the subjects I need.
Q: Why did you choose LBC | Capital as a place to learn, study and grow?
A: That's a bit of a story. In January 2019, I was in massage school, and I was rethinking my spiritual life and my career plans. I had always wanted to be a veterinarian, but I really felt a call to physical therapy, so I said no to what I thought was my college. My older sister, an alumna [of LBC | Capital], suggested I go to Charger Night. The campus was really peaceful, and I felt God's presence, so I asked, if I was supposed to go here, that my "Charger mom" be someone who plays the guitar. I think that was the fastest answer to prayer I have ever had.
Q: Have you always been interested in healthcare and health-related careers? If so, why?
A: Definitely! It started when I was 9 years old. I picked up "All Creatures Great and Small" from the bookstore. It's about this vet in Yorkshire, and at the time I thought it was fiction. After that, I wanted to be a vet for the longest time. I have the whole series now.
Q: The topic of healthcare seems to make news headlines every day. What do you see as some of the most important healthcare issues in America?
A: Healthcare is constantly evolving and, while this is a good thing, sometimes ethical problems arise from this. Personally, I think some of the biggest issues stem from monetary incentives, state irresponsibility and a lack of communication between the healthcare worker and the patient.
The healthcare environment is notorious for its high-paying careers, and unfortunately not everyone is in it for the bettering of the patient. More attention needs to be given to the contracts of healthcare board members to ensure that any and all loopholes are nonexistent.
As for state irresponsibility, I'm referring to the states that have legalized certain drug use. For example, Measure 110 was passed in California, and this law legalizes small amounts of hard drugs so that addicts will have a chance to seek treatment without being penalized. While this sounds ideal, when taken into account all the healthcare problems and expenses that substance abuse breeds, it is really questionable as to what motived this decision. However, that is just my opinion.
Better communication between doctor and patient will definitely help with many of America's health issues. We can see, even with the COVID-19 situation, just how untrusting many people are. Patients need to understand that their doctor is there to answer any questions that they may have, and doctors need to be willing to listen to and to respect their patient's fears and wants. While we cannot, and should not, control the actions of our patients, we can educate them to create change. When the 'why' is answered, we're more likely to care about the 'how.'
Q: What do you hope to do with your Healthcare Management degree after graduation?
A: I want to go to Bond University College in Australia and finish my physical therapy schooling. From there, I plan to combine my massage and PT education to work with athletes and trafficking survivors. That's the plan, but God likes surprises, so who knows?