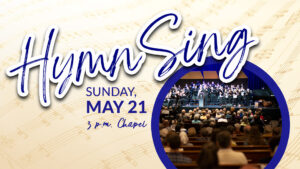 A beloved Lancaster Bible College tradition of worship returns to campus this spring.
The seventh annual Hymn Sing is set for 3 p.m. Sunday, May 21, in Good Shepherd Chapel. The event will include great hymns of the faith with song leader and faculty member Bruce Gerlach, organist Frank Dodd and pianist Dr. Paul Thorlakson, Chair of the LBC | Capital Music, Worship & Performing Arts Department. A quartet of voices and brass ensemble will also be featured.
The 2023 Hymn Sing is free to attend, but tickets may be reserved at lbc.edu/events.