The cast and crew for the Lancaster Bible College's upcoming production of "Into the Woods" has been hard at work to bring an excellent show to the Good Shepherd Chapel stage beginning Friday, Sept. 16.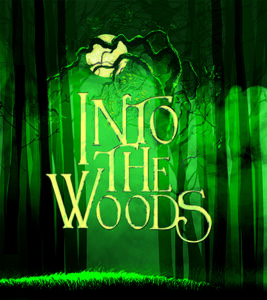 "Into the Woods" is a 1987 musical with music and lyrics by Stephen Sondheim and a book by James Lapine. Intertwining at least four Brothers Grimm fairytales—Little Red Riding Hood, Jack and the Beanstalk, Rapunzel and Cinderella—the hit musical explores the consequences of the characters' desires and actions, taking a somewhat darker turn than a run-of-the-mill fairytale. For this reason, LBC's Music, Worship & Performing Arts Department is suggesting the show is suitable for ages 12 and up.
After debuting in San Diego in 1986 and premiering on Broadway in 1987, "Into the Woods" won three Tony Awards while facing the strong competition of 1988's "The Phantom of the Opera." The musical has since been produced many times at virtually all levels of theatre and is currently experiencing a revival that opened in late June 2022 at the St. James Theatre on Broadway. Disney's 2014 film adaptation grossed over $213 million worldwide and received both Oscar and Golden Globe nominations.
One interesting fact is that the Lancaster Bible College presentation of "Into the Woods" will feature one of the largest orchestras of any local production in recent history. The LBC Orchestra is comprised of both current students and local professional musicians.
Lancaster Bible College's "Into the Woods" show times are:
Friday, Sept. 16—7 p.m.
Saturday, Sept. 17—2 and 7 p.m.
Thursday, Sept. 22—7 p.m.
Friday, Sept. 23—2 p.m.
Saturday, Sept. 24—7 p.m.
Visit lbc.edu/events for tickets.
'Into the Woods' Cast
Laura Aines – Cinderella's Stepmother
Delaney Bigley – Witch
Paris Black – Little Red Riding Hood
Ashley Eick – Milky White Puppeteer
Alex Ernst – Steward
Griselda Jiminez-Gomez – Lucinda
Ethan Goss – Narrator / Mysterious Man
Brayden Halter – Cinderella's Father
Sydney Hersch – Cinderella's Mother
Ashtyn Hess – Granny
Chad Hughes – Jack
Mackenzie Islip – Baker's Wife
Hannah Lingenfelter – Cinderella
Brad Myer – Baker
Elsa Rogers – Rapunzel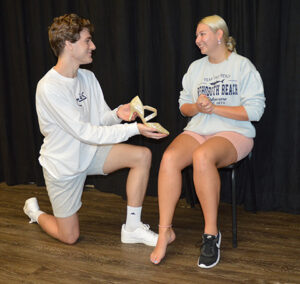 Carter Rutkowski – Cinderella's Prince / Wolf
Elly Schulz – Sleeping Beauty
Korri Slamans – Florinda / Giant
Alex Vogelgesang – Rapunzel's Prince
Sarah Vogelgesang – Jack's Mother
Sarah Ziegler – Snow White
Ensemble
Alex Ernst
Bethany Fasarakis
Ashtyn Hess
Elly Schulz
Sarah Ziegler
Crew
Mariposa Maxim – Stage Manager
Avonlea Angelino – Assistant Stage Manager
Bethany Fasarakis – Assistant Stage Manager
Rebecca Barker – Crew
Kimi Earl – Crew
Andrew Kelly – Crew
Careth Noll – Crew`
Vladimir Podgorodniy – Crew

Orchestra
Conductor – Scott Williams
Flute – Michelle Barraclough
Clarinet – Doris Hall-Gulati
Bassoon – Robin Plant
Horn 1 – Shari Gleason-Mayrhofer
Horn 2 – Jill Graybill
Trumpet – Dan Stauffer
Piano – Scott Williams
Synthesizer – Chris Lehigh
Percussion – Sean Rode
Violin – Tara Kenkelen, Lydia Talbott
Viola – Jenny Huerter, Annette Driver
Cello – John Caldwell
Bass – Charlie Burnette
Production Team
Executive Producer – Stephen Atherholt
Director – Randall Frizado
Assistant Director / Choreographer – Cody Smith
Music Director – Scott Williams
Production Manager – Jennifer Rutkowski
Costume Designer – Beth Dunkelberger
Lighting Designer – Phil McLeod
Sound Designer – Tony Guyer
Set Designer – Philadelphia Scenic Works
Production Coordinator – Brianna Wilhelm
Guest Services Manager – Ariella Hoover