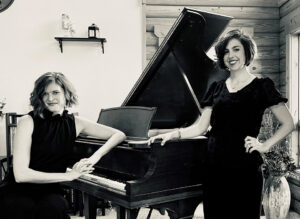 Music and literature lovers looking for a unique Valentine's Day event can look no further than The Trust Performing Arts Center for a beautiful performance of "The Jane Austen Playlist: Love and Music in the Time of Regency England."
The evening of prose and music—through piano, voice and period costumes—will feature songs from the personal collection of the internationally recognized author who was a leading female voice in literature and history. The performance is set for 7:30 p.m. Feb. 14 at The Trust, 37 N. Market St., Lancaster. Tickets may be purchased at lancastertrust.com/events.
The phrase, "It is a truth universally acknowledged," is firmly established as one of the best-known and beloved in English literature. Attendees to "The Jane Austen Playlist" will experience the music that influenced the woman who penned these timeless words.
Performers include pianist Laura Klein, soprano Megan Poff and narrator Kathy Casey Becker, with guest appearances by tenor Jay Poff, violinist Julia Hansen, cellist Adam Hansen, flautist Tyson Severin and harpist Janet Witman. The musicians will take audience members on a journey to early 19th century England through their performances.
Klein founded "The Jane Austen Playlist" in 2019 to pay tribute to the historical music of the Austen family. Composed of over 600 songs and various instrumental pieces, "The Jane Austen Playlist" is a collection of 18 manuscripts inspired by the handwritten works of the females in the Austen family, some by Jane Austen herself.