READ MORE BELOW FOR AN UPDATE TO THIS STORY…
In August 2021, Megan (Coderre '06) Fraver traveled to Germany for treatment on her eyes and has experienced improvement in her sight. She is undergoing 90 days of specialized therapy at home and is hoping to make another trip to the Germany eye clinic in the near future.
"My trip to Germany was a success!" Fraver told LBC in early October. "I found out that the Federov Restore Vision Clinic only accepts 5% of applicants, and only 70% of those 5% respond. I responded to their treatment! I improved in all testing areas and I showed an overall visual field improvement of 55% (more light coming in). I am doing Dr. Federov's daily vision therapy twice a day at home on a monitor with his patented software. I should start seeing some increased functional vision over the next few months. I most likely will need a second treatment in Germany in May. Please continue to pray for my healing journey! I believe God is going to heal me! Functional vision will come!"
Search online for #MegansEyes for more of Megan's story.
---
Read the original post from July 2021 below:
For over a decade, Megan (Coderre '06) Fraver helped students work through challenges in the Transitional Living Program / Home Life at Milton Hershey School, about a half-hour from her alma mater of Lancaster Bible College.
Megan, along with a team of other Milton Hershey staff members, helped develop the program for seniors who were graduating and transitioning into everyday life by coming alongside the students to build skills such as apartment living, grocery shopping, laundry and money management skills like paying bills and balancing a checkbook.
Now, Megan, the mother of four children, ages 10, 8, 3, and 1, with her husband, Matt ('07), is working through her own challenges of losing her sight. Hear from Megan about her work at Milton Hershey and how she and her family are navigating this season of life.
LBC | CAPITAL: Please tell us about the work you did through the Milton Hershey School.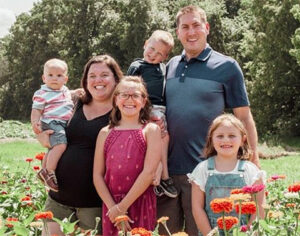 MEGAN FRAVER: After graduating from LBC and Liberty University, I worked for two years with senior high girls in Transitional Living (TL) at Milton Hershey. They have their own apartments and we would live with them and teach them life, job and interview skills—things they wouldn't have learned in their student homes to get them ready for the "real world." There was also a car assigned to each TL building, and they would build trust with us in order to use the car. I eventually became the coordinator in one of the houses.
Matt and I served as relief house-parents from 2010 to 2018 and would relieve the house-parents every other weekend. This would involve helping the students with chores, cooking and eating meals together, taking them shopping or playing games and watching movies. Over the years, we built relationships with the girls, and we still talk and text with many of them to this day.
LBC: How did your education at LBC | Capital prepare you for that role?
MF: Although we didn't force our beliefs, we could still talk about our faith. Our Bible degrees at LBC helped to strengthen those faith talks. We prayed for the students and could talk about the Bible. A few girls made the decision to follow Christ on a retreat they attended, and we were able to help and encourage them along that journey.
I originally started at LBC | Capital by taking early childhood education classes, and I also have a degree in Family & Consumer Science from Liberty University. Because LBC was close to home, I was able to make friends with so many people and really come out of my shell. It built my confidence because it was a small school, and I also met my husband there!
LBC: When did you begin experiencing difficulty with your sight?
MF: Our youngest son was born in December 2019, and in February 2020, I began experiencing fuzziness in my left eye. I was misdiagnosed as having a scratch on my eye, then when it didn't heal, there was the possibility it could be multiple sclerosis. That's still a possibility, but I have regular scans, and I have no signs of MS. They said it would be very rare that the other eye would be affected, but by September, I started to lose sight in my right eye, and have now lost all of my central vision in that eye. I had multiple tests done at Lancaster General Hospital, Willis Eye Hospital and Jefferson Hospital in Philadelphia, but they couldn't find a cause for my optic neuropathy.
It's crazy how God chose me, and even though this was the most traumatic year and a half of our lives, I am reaching so many people and giving glory to Him. He can always use different people and methods to bring about your miracle.
LBC: What has this experience been like for your family? Whom do you count on for support?
MF: At first, we could not believe that God allowed this to happen, then especially as it happened in the other eye. It was so mind-boggling. But we're allowed to wrestle and be angry as long as we don't stay there and give up on our faith. It has been hard on the kids, especially when I was in the hospital for two separate weeks—alone due to COVID. They know what mommy is going through is to help other people see Jesus. My parents, Peter ('11) and Jeanne, Matt's parents, Perry and Wanda, and Matt's sister, Melissa (Fraver '15) Jeffries, have been such a support for us.
LBC: Please share about your upcoming trip to Germany for treatment.
MF: When you lose your vision and your doctors tell you there's nothing that can be done, it's hard to accept. So we kept researching online, and a clinic in Germany kept coming up. I submitted an application to see if I was a candidate. Then on Facebook, the restoration clinic came up in my news feed one day. It was the re-sharing of a nurse and mom in Arkansas who was talking about her son's experience and how 75% of people experience improved sight, including her son!
I just felt led to message her, she called Matt and me, and we talked for two hours one night. She told us the story of her 16-year-old son and how much his vision improved through his treatment in Germany. She encouraged us to go for it. I told her that I was so happy I found her because I had no one to talk to about what I was going through. Her son is preparing for his second trip to Germany to help with his genetic disorder. Instead of seeing all black in both eyes, he now sees color!
I don't have a genetic disorder but have been diagnosed with ischemic optic neuropathy from unknown causes. The optic nerves become damaged and eventually die, and the human body cannot regenerate optic nerves. We did a lot more research, and I got approved as a perfect candidate at the Federov Vision Restoration Clinic Germany in May 2021. Dr. Federov combines cutting-edge electrical stimulation paired with patented vision therapy to improve vision clarity and better visual fields.
LBC: How can the LBC | Capital family pray for you?
MF: A prayer would be to raise the last bit of funds needed for the trip and treatment. Please also pray that my story will continue reaching as many people as possible. We pray for safe travels to Germany and back and that the treatment will be successful so that I can have a better quality of life as I raise my four kids.
God just keeps providing through people; one example is friend of my LBC suitemate who saw my social media post; she has a family member who serves as a pastor just outside of Berlin. They have been in contact to see how they can help while we are in Germany. We never doubted God. Through our worst storm, God doesn't want us to suffer. God has kept His promises. As Toby Mac sings, "Help is on the way!" That's what we're holding on to. #meganseyes