The a cappella quartet Kings Return, which gained fame during the height of the pandemic singing in stairwells on social media, will make a stop in Lancaster on Nov. 11.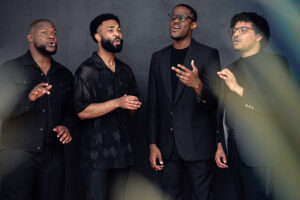 Set for 7:30 p.m. at The Trust Performing Arts Center Great Hall, 37 N. Market St., Kings Return's local concert is nestled between performances at Penn State University and the Kennedy Center Millennium Stage in Washington, D.C., as well as the Harlem Stage in New York City in mid-December. For tickets, visit lancastertrust.com.
According to Classicfm.com, Kings Return's sound is "enough to take your breath away and send a shiver down your spine." Consisting of Vaughn Faison (Tenor 1), J.E. McKissic (Tenor 2), Jamall Williams (Baritone) and Gabe Kunda (Bass), this Dallas-based "vocal band of brothers" was created in 2016 after initially singing for Kunda's graduation recital. With the tagline, "We sing in stairwells," the quartet's popularity soared when the group started posting videos to social media from the stairwell where the singers rehearse.
Celebrating more than 10 million views across digital platforms, the ensemble is inspired by gospel, jazz, R&B, soul and classical music and performs diverse arrangements from "Ave Maria" and the Bee Gees' "How Deep is Your Love" to "God Bless America" and "Bridge Over Troubled Water." The group's new album, "Rove," was released in late September.