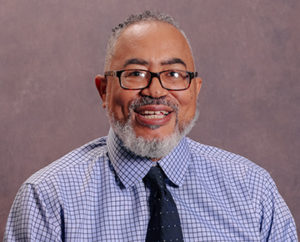 Throughout the spring of 2021, LBC | Capital – Philadelphia will be featured each Saturday morning on Reach Gospel Radio, a network that reaches 20 cities in nine states along the east coast and into Canada.
David Lingham, LBC | Capital – Philadelphia Enrollment & Recruitment Manager, right, will be the guest at 9 a.m. Saturday, Feb. 27 and March 6. While speaking with radio host Jim Turner, Lingham will describe LBC | Capital Philadelphia students and how they are raising families, working, serving and getting their degrees. He will also share the market-relevant programs and degrees available to students at LBC | Capital — Philadelphia, such as Biblical Studies, Business, Community Transformation & Social Engagement and Human Services. Likewise, students can also study online in programs like Accounting, Communication, Criminal Justice, Healthcare Management, Marketing, Ministry Leadership and Sport Management.
Lingham will share with radio listeners the unique structure of adult education classes in the City of Brotherly Love, as well as highlight the engaging and caring faculty members at LBC | Capital – Philadelphia.
On March 13, LBC | Capital – Philadelphia Adjunct Professor, the Rev. Dr. Wayne Weathers, will be featured on the Reach Gospel Radio program. Weathers leads Vision of Hope Baptist Church in Philadelphia and is a community leader in the city.
The Rev. Dr. Malcolm Byrd will join Turner in the studio for the March 20 program. Byrd serves as an Associate Minister of Zion Hill Baptist Church and as a pulpit supply minister at the Cathedral of Praise Community Church. In addition to LBC | Capital, Dr. Byrd is also an adjunct faculty member of Eastern University and a guest lecturer for Palmer Theological Seminary.
Additional LBC | Capital-themed programs on Reach Gospel Radio this spring will follow this schedule:
March 27: David Lingham
April 3: David Lingham, possibly joined by an LBC | Capital student to discuss the Philadelphia open house that morning at 10 a.m.
April 10: Wayne Weathers
April 17: Malcolm Byrd
April 24: David Lingham
May 1: David Lingham
May 8: Wayne Weathers
May 15: Malcolm Byrd
Listeners can hear the program featuring LBC | Capital – Philadelphia representatives at 9 a.m. each Saturday through May 15 on any of the Reach Gospel Radio stations or listen live online by visiting ReachGospelRadio.com and clicking the yellow "Listen Live" button in the upper-right corner.