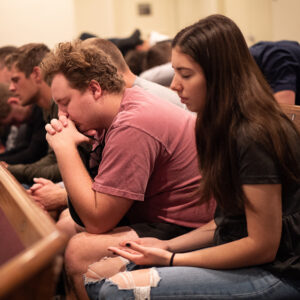 Held for decades at Lancaster Bible College, the annual LBC | Capital Day of Prayer is a favorite memory for countless college alumni. Set this year for Tuesday, Oct. 4, the 2022 Day of Prayer will allow faculty, staff and students to pause from their regular busy schedules to come together as a college community and pray.
College Pastor Timothy Torres, who joined the Lancaster campus at the start of the 2022-23 academic year, will lead the main sessions for the day, which will focus on Psalm 46:10—"Be still, and know that I am God."
Events throughout the day include a morning chapel session, guided individual prayer times across campus, a community lunch, an afternoon chapel session, departmental prayer times and a time of closing prayer at the fountain at the center of campus.
"We are looking forward to the Day of Prayer as a time of renewal, encouragement and strength," Torres said. "We will be disconnecting from our normal activities to connect with God through prayer, silence, reflection, song and community. Psalm 46 tells us to 'be still.' In the original language, being 'still' denotes the idea of sinking into or simply to relax. We want the Day of Prayer to be an invitation to 'sink' into God's presence and 'relax' in His grace and love for us."