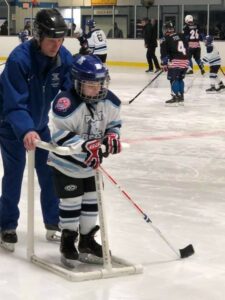 Richard Garrison ('20) has a special place in his heart for hockey players but especially those who may not have the chance to play on a school or club team.
That's why he started the York Polar Bears Special Needs Hockey Team in January 2016—as a way to offer children and young adults with special needs, who are unable to play on a recreation or school team, a chance to play hockey in an environment where they can learn at their own pace and ability.
Garrison, who earned his bachelor's degree in Bible through LBC | Capital's Adult Education program, says the goal of York Polar Bears is to give people with developmental disabilities the chance to play the sport of ice hockey in an environment that is adapted to the athletes' level of ability so they can be enriched and, of course, have fun in the process.
According to the York Polar Bears website, "This team is about giving children and young adults a chance to play at their own level and ability. However, it's so much more than playing hockey. Hockey is just the vessel with which we will help encourage friendships, team work, dependability and develop within each player the characteristics that will help the player to become more successful, both inside and outside the hockey environment."
See more from Rich on why he's so passionate about this special team.
LBC | CAPITAL: What made you decide to start the York Polar Bears?
RICHARD GARRISON: When I returned home in 2013 from my last combat tour in Afghanistan, I was in a very dark and lonely place. I started playing ice hockey on an adult team at York, but it didn't have the effects I was hoping for. Then I was connected with the USA Warriors ice hockey team. I tried out and made the team and traveled around the country playing college, AHL and NHL teams to help build more teams for combat-wounded veterans who were suffering. We traveled to New Jersey to play a team for the first time that was made up of children and adults with cognitive disabilities on an outdoor rink. The other team looked at this as though they were playing the last game of the Stanley Cup. I didn't know what to expect, because I had never heard of a team like this before; I guess many of us felt that way.
As soon as we hit the ice and started warming up, thousands of people started to show up and gather around the rink. Then the other team came out onto the ice and the players started to gather around us. They were giving us hugs and telling us all about everything they knew. It was the greatest moment I had experienced in the last 10 years, and it stirred a voice inside me that said, "You need to do this."
We played the game, took team pictures, gathered with the players and their families, and after a few hours, my wife, Vickie, and I drove home. When we arrived home and unpacked the truck, we started to talk and both said at the same time [that] we should build a team here [in York] for individuals who could benefit from it. It took over a year of filing paperwork, making contacts, advertising and recruiting, but we finally got everything done. At our first board meeting, we informed the members we only had $1,000 of our savings left, and we asked what we should do with it. There was a discussion with many different answers, and Vickie and I said, "We need to pray for guidance." Naturally, there was backlash, and people got up, but we prayed, and about a half an hour after, a phone rang, and a board member came over and said a club he was in had just donated $2,500. So, the whole argument of what to do evaporated, and we continued on with the meeting.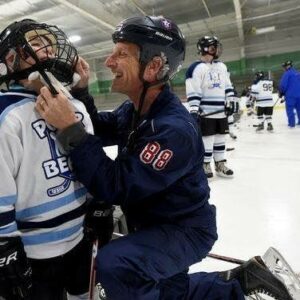 LBC: What do you see as the main benefits for both players and families?
RG: The players benefit in that they get to be part of something the world has told them through labels that they would never be able to do. They make new friends, learn to overcome their fears, improve their physical and cognitive abilities, be part of a team and have fun. The parents get to live something they thought they were excluded from, and that is watching their child play in an organized, fast-paced sports activity—being part of not just a team but a family where no one feels like a square peg trying to fit into a round hole. They get to see the abilities God has given their children that no one else has ever seen or thought they had.
LBC: What were some of the best aspects of studying at LBC | Capital?
RG: I loved studying at LBC | Capital and meeting my classmates and getting to know them. The professors were awesome, the staff was fantastic, the atmosphere was peaceful and the greatest thing was learning about the Lord in a way I have never thought about before. I am taking classes online now in a secular college, and I'm in my last class, which is History of Science. Throughout the text and the discussions, the class is constantly told that the Bible and science are at odds with each other, but because of my education at LBC, I have been able to argue against that point and prove it by showing the class that science is embedded throughout God's Word.
LBC: Are there any York Polar Bears events or opportunities local alumni and friends of the college may be interested in?
RG: Due to the COVID-19 virus, we have had to change the way we raise funds to support the players and families involved with the York Polar Bears. So we have come up with having a golf tournament as one of the new ways. On June 21, 2021, we are having our first Sticks to Clubs Golf Tournament at Heritage Hills Resort in York, Pa. Registration will start at 9:30 a.m., and you can find all the information on our website, yorkpolarbears.org (i.e., car giveaway for hole-in-one, lunch from Chick-fil-A and other refreshments, dinner and awards banquet and interactions with players). Every penny we collect in our fundraisers goes back to the players and their families. Everyone involved with the team does (so) as volunteers, and we use the funds to support the team but also to help families who are struggling. The team and the families are learning that we give back to the community also. We have done fundraiser games for City of York firefighters who died in the line of duty, local families who were struggling, wounded warriors, kids without coats and food drives for the hungry. We explain to the players and families that we are about serving and not being served, and through serving they can break the stigma the world has placed them in.
For more information about the 2023 York Polar Bears Sticks to Clubs Golf Tournament on June 19, visit yorkpolarbears.org/2023-golf-tournament.
(LBC | Capital will serve as the Driving Range sponsor for this event; photos from YorkPolarBears.org)