(This article originally appeared in the Manheim (Pa.) Merchandiser July 26, 2023, edition and online at TownLively.com.)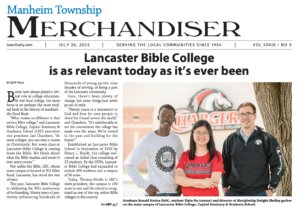 Books have always played a critical role in college education. At one local college, the main focus is on perhaps the most studied book in the history of mankind – the Good Book.
"What makes us different is that we're a Bible college," said Lancaster Bible College, Capital Seminary & Graduate School (LBC) executive vice president Jael Chambers. "At most colleges, you can take a course in Christianity. But every class at Lancaster Bible College is coming from the Bible. We think about what the Bible teaches and insert it into every course."
Not unlike the Bible, LBC, whose main campus is located at 901 Eden Road, Lancaster, has stood the test of time.
This year, Lancaster Bible College is celebrating the 90th anniversary of its founding. Ninety years of positively influencing hundreds of thousands of young spirits, nine decades of serving, of being a part of the Lancaster community. Continue reading…