Dr. Mark Meyer ('93), Director of LBC | Capital's PhD in Biblical Studies program and professor in the Bible & Theology Department, was invited to be a part of a podcast on the "Aaronic Blessing in the Old Testament" from Numbers 6:24-26.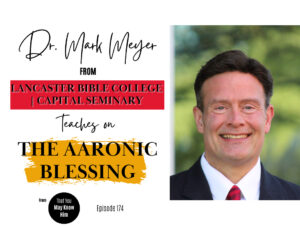 For the interview, Meyer—who earned his Master of Divinity from LBC | Capital, as well as a master's degree in Hebrew and Aramaic and a PhD in Semitic Languages and Literature from The Catholic University of America—talked with Blake Barbera on the "That You May Know Him Podcast."
Barbera earned a Master of Theological Studies from Duke University and is currently taking courses within the PhD in Biblical Studies program at LBC | Capital. He will join the cohort in the fall of 2023.
Those interested can watch recordings of the podcast, titled "The Beauty and Meaning of the Aaronic Blessing," at the following YouTube links:
39-second video of Dr. Meyer's Aaronic Blessing in Hebrew with English captions
Interestingly, Meyer has a background in engineering, earning a bachelor's and master's degree in electrical engineering from North Carolina State University and Johns Hopkins University, respectively. He also completed studies in Israel with Jerusalem University College, focusing on the historical and geographical settings of the Bible and the life and times of Jesus. He is the author of "A Comparative Dialectical Study of Genitive Constructions in Aramaic Translations of Exodus" and translated the book of Exodus from the Syriac Peshitta into English for "The Antioch Bible Set."
Meyer, who teaches primarily at LBC | Capital's Washington, D.C., site, is passionate about equipping students with even greater ministry and teaching skills as they pursue a deeper understanding of the Word of God through the study of the original languages, cultures and literatures that serve as the foundations of Scripture.