Beginning this week, Lancaster Bible College | Capital Seminary & Graduate School will host several graduation ceremonies to honor 253 graduates as they commence or continue careers and ministry work that will impact their communities and beyond.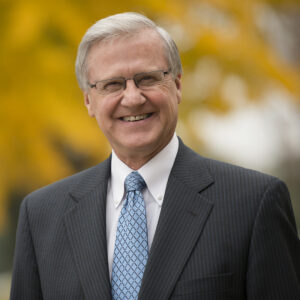 On May 5, LBC | Capital will celebrate with Lancaster and online graduates at an 11 a.m. ceremony in Good Shepherd Chapel at the main campus at 901 Eden Road. In all, 191 students meet the requirements for graduation—153 undergraduate, 33 graduate and five doctoral. Those in attendance will hear from LBC | Capital President Emeritus Dr. Peter W. Teague, who led the college as president when the on-campus undergraduate Class of 2023 first found their home at LBC as freshmen in the fall of 2019. On Feb. 1, 2020, Teague passed the baton to current president, Dr. Thomas L. Kiedis.
Dr. Teague was appointed president of LBC | Capital in 1999. Prior to this, he served on the Board of Trustees for nine years and as Dean of Undergraduate Education for one year. He also spent 23 years at the Christian School of York as Director of Development (1975-1979) and Superintendent (1979-1998). He earned his Bachelor of Science in Business Administration and Psychology from Sterling College, a Master of Arts in Christian Education from Luther Rice Seminary, and Doctor of Education from Nova Southeastern University.
A columnist for LNP | LancasterOnline and author of "From the Podium" and "Wisdom for the Walk," Teague has served as an author or editor of several publications and handbooks and has taught as an instructor at eight colleges. He has been involved in leadership positions with the Association of Biblical Higher Education (ABHE), Association of Christian Schools International and Mid-Atlantic Christian Schools Association. He is a founding board member of the International Alliance for Christian Education, a member of the Global Outreach Mission board and chairs the board of directors of the American International Cultural Exchange Institute. Teague is also a member of Walk Through the Bible Ministries Advisory Council, founding member of Logos Academy Board and founder and president of Jessica and Friends Community in York, Pa. A frequent speaker at the ABHE convention, Christian education conferences, churches and community events, he serves on accreditation team visits for secondary and post-secondary institutions.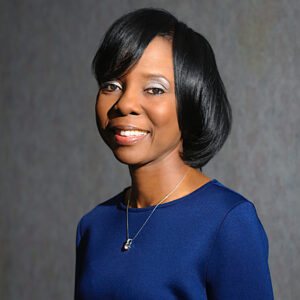 On May 6, LBC | Capital will celebrate 29 Washington, D.C., graduates—12 undergraduate, 14 graduate and three doctoral—at a 10 a.m. ceremony at Greater Saint John Cathedral in Upper Marlboro, Md. Commencement speaker Dr. Karen P. McNair is Dean of Calvary Bible Institute, Inc. in Washington, D.C. The LBC | Capital – Washington, D.C., Site Director and Dean is David Gaines.
A Virginia native from a family of pastors, preachers, missionaries, teachers and leaders, McNair serves as an Adjunct Professor in the LBC | Capital Church & Ministry Leadership Department as well as a Christian education and strategic leadership consultant, namely for Reid Temple Bible College, which led to the approval of college recognition and degree granting authority by the Maryland Higher Education Commission.
McNair earned a Certificate of Biblical Studies from Calvary Bible Institute, a Bachelor of Science in General Business with a concentration in Management Computer Information Systems from Norfolk State University, a Master of Arts in Religious Studies from the Howard University School of Divinity and a Doctor of Strategic Leadership from Regent University's School of Global Leadership and Entrepreneurship. Over her career, she has also served as a Sunday school teacher, choir member, Associate Missionary Vice President, Prayer Partner's Network Vice President, Ministers in Training Program Coordinator, co-chair of the Calvary Bible Institute Advisory Board and co-chair of the Mt. Calvary Holy Church of America, Inc., College and Career Fair.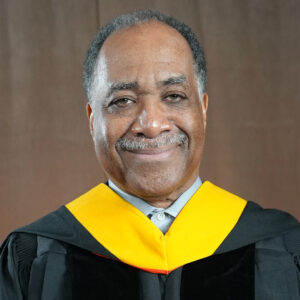 On May 13, LBC | Capital – Philadelphia will celebrate nine graduates earning an associate or bachelor's degree at a 10 a.m. ceremony at Deliverance Evangelistic Church in Philadelphia alongside Commencement speaker Bishop Eric A. Lambert Jr. LBC | Capital – Philadelphia Site Director and Dean is Dr. Tanya Solomon.
Lambert, who serves as president and presiding bishop of the Bethel Deliverance International Fellowship of Churches, Inc., is committed to developing believers in Christ through teaching and preaching the unadulterated Word of God. After serving with Pastor Benjamin Smith at Deliverance Evangelistic Church, Lambert planted what is now Bethel Deliverance International Church. More than 30 years later, his spiritual legacy is evident among church membership, over 40 specialized ministries and planted churches.
He completed studies at the Deliverance Evangelistic Bible Institute, Back to the Bible Institute and Liberty University Bible Institute and attended classes at the Center for Urban Theological Studies, which became part of LBC | Capital in 2015. Lambert earned his bachelor's degree in psychology from Liberty University and a master's degree in forensic psychology from Nova Southeastern University of Fort Lauderdale. He also studied foreign languages and speaks fluent Italian and proficient Russian. Besides proclaiming the gospel in the daily and weekly television broadcast "Climbing Higher," Lambert is the author of nine books.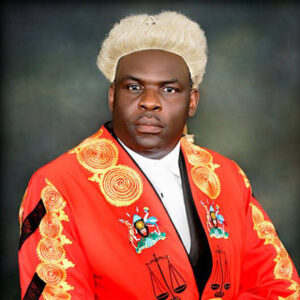 Finally, on May 27, LBC | Capital will honor 24 graduates during a ceremony in Kampala, Uganda. These students will earn a Master of Arts in Contextualized Pastoral Ministry through LBC | Capital's partnership with the Pastors Discipleship Network (PDN), which aims to equip ministry leaders across Africa to proclaim the gospel and to better serve their churches and communities. The Commencement speaker will be Lord Justice Mike Chibita, Judge of the Supreme Court. Robert Blanks serves as the Director of the Contextualized Pastoral Ministry Program and PDN liaison.
Chibita earned a Uganda Certificate of Education from King's College in Budo, a Bachelor of Laws degree from Makerere University in Kampala, a Diploma in Legal Practice from the Law Development Center and a Master of Laws degree from the University of Iowa. Over his career, Chibita has served as Private Secretary & Legal Affairs for the President of Uganda, Judge of the High Court in Uganda and Director of Public Prosecutions. In February 2020, he earned the distinguished title of an Honorable Justice of the Supreme Court of Uganda.