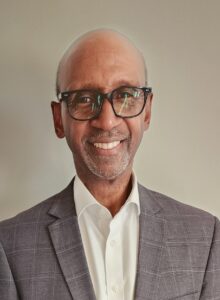 Lancaster Bible College | Capital Seminary & Graduate School welcomed David E. Gaines ('87, '06 & '23) as the new Washington, D.C., Global Site Director in mid-November. He is also a student in LBC | Capital's PhD in Leadership program.
Gaines met the Lord more than 50 years ago as a teenager in Baltimore City, when his older brother led him to faith in Christ. He graduated from Washington Bible College with a Bachelor of Science degree in Pastoral Theology in 1987 and from Capital Bible Seminary with an MDiv in 2006. His PhD in Leadership research focuses on mentoring African men for leadership roles in their homes, churches and communities. Before his new post at LBC | Capital, he was also an Adjunct Professor for the Washington, D.C., location and will continue in his teaching role as the site director.
"We believe David Gaines will take the helm and lead our missional reach through our Washington, D.C. site to new levels of innovative content delivery and enhanced access for current and future students," said Dr. Beau Walker, Vice President of Global Education.
Gaines served as the Senior Pastor of Manna Bible Baptist Church in Baltimore for 16 years and as Assistant to the Pastor at New Antioch Baptist Church of Randallstown for 10 years. He and his wife, Tracey, have been married for 37 years and have five children, 13 grandchildren and two great-grandchildren.