Lancaster Bible College and The Trust Performing Arts Center has an exciting 2023-24 Arts & Culture season in store for the campus and community to help celebrate the college's 90th anniversary! But what exactly goes into planning dozens of events throughout an entire season? For Ariella Hoover ('14), Interim Director of the Arts & Culture Series for Lancaster Bible College and The Trust Performing Arts Center, it's a labor of love.
Read on to hear about what makes an events season great, and find out how you can reserve your tickets for this year's upcoming events.
Q: How do you go about putting together an exciting and varied Arts & Culture season for LBC and The Trust?
A: It's quite collaborative. We take surveys from past patrons and our members about what they'd like to see in future seasons, we talk with the Music, Worship & Performing Arts Department at the college so that we program events that will be inspirational and beneficial for our music students to attend, and we chat with our presenting partners about artists and acts they would like to present—including Lancaster International Piano Festival, Lancaster Art Song Society, The Row House and Durang Dance Collective.
We look at what has historically worked in the past as far as timing and how many events our team can handle per month. We also consider what works well in our venues, such as Good Shepherd Chapel, The Trust Performing Arts Center Great Hall and The Trust Black Box Theatre, regarding acoustics, space, etc. And we look at the types of events and artists we have recently presented so that we keep each season diverse.
When it comes to scheduling LBC Musicals—such as Cinderella this fall and another winter musical to be announced on Christmas Day—it's mostly decided by the Music, Worship & Performing Arts Department at the college, since we look at it from several angles, including curricular. Our leadership considers the style of the show or musical and if it's a genre that our current group of Musical Theatre students needs to experience, learn from and perform. Some of the other questions they weigh are, "Will this musical help encourage specific growth in our students and give them the experience they need to be well rounded by graduation?" "What fits within the vision and mission of LBC's Musical Theatre program?" "What voice parts do we have and what does the student body makeup currently look like?" In summary, many factors and angles and conversations are considered in the determining the programming for a season.
Q: How far in advance do you begin and how do you decide what LBC and community audience might like to attend?
A: We typically start planning for a season at least 10 months in advance, sometimes more. There are times we are in communication with agents as far as years in advance. Typically by the end of a calendar year prior to a season, which usually launches in September/October, we are already in conversations. Planning ramps up in the spring so that by March/April we are fully nailing down the lineup, timing and artists with agents. At this point, we are also detailing the specifics of a contract. We try to have contracts finalized by May so we can move to the next phase of details, such as getting the events ready to go live, engaging in marketing and setting up advertising for the season. A lot of administrative tasks, design and setup work is accomplished during the summer.
Q: What is something people may not know about what goes into planning and implementing an entire season of Arts & Culture events?
A: It's more details and planning than one might think. Every little detail has to be thought of and decided upon, if it is not, we'll wish we had thought about it. At the end of the day, if our artists and audiences come and experience a beautiful, smooth evening and don't think about all the little details and work that actually went into the event, then we've done our jobs well.
Q: What has been exciting about bringing people together again for live music, theatre and arts events?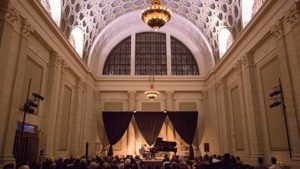 A: It's exciting that we are able to get together again to enjoy live performances after a few years break due to COVID. We were so limited during that time and only able to enjoy performing arts through a screen or pre-recorded media. Gathering again after such tumultuous times gives us peace and confidence that nothing lasts forever, even hard times. Hard times do bring change, and I think we are all leaning into and learning how and what change does bring. But at the end of the day, to be able to physically come together and watch a performance in real time is wonderful. Choosing to go and experience a live performance challenges the new norm of pre-recorded media as being the choice—the easy, go-to choice.
We are inundated with media, and I don't see that slowing down anytime soon. I think attending in-person performances is a safe way to be a tad rebellious, to defy the times and declare through action that we will not allow the live, in-person performing arts to die. It's been exciting to see the joy of our patrons during performances and their excitement to be back. It's awesome that there are folks who are committed to joining us in this passion to keep the performing arts alive, choose to leave their homes, get out into the community and attend live shows.
Q: What are some of the events you're looking forward to during the 2023-24 season?
A: All of them! But, actually, I think we have a really special season planned, and we are very excited about every single performance. Personally, I usually feel bias toward any vocal arts concert, as that is something I studied closely. We usually enjoy a cappella groups at The Trust, and we have two coming this season. I'm looking forward to the Lancaster Arts Song Society concert in September as well as soprano Samantha Hankey in March. I think Soul Sanctuary will be such a treat to hear classic spirituals in different arrangements. We also have a lot of great piano and chamber music planned, and I think the Alejandro Brittes Quartet will definitely be a highlight. The pairing of those four instruments together (flute, upright bass, accordion and 7-string guitar) is so unique and I've always been a huge fan of accordion music! I truly think every event will be delightful.
Q: What is your favorite part about inviting talented performers to both The Trust Performing Arts Center and Lancaster Bible College for the college and community to enjoy?
A: In general, I love getting to help facilitate a space where performing arts and music can bring joy and inspiration to others; it's part of my "why." To see the joy, amazement and emotion of audiences and artists alike during an event is a gift to me. I love getting to interact with our amazing artists, and I love getting to meet and greet our patrons. I'm grateful that we get to be a part of the community in this way.
Q: How can people find out more about attending events at Lancaster Bible College and The Trust Performing Arts Center this year?
A: Head to lbc.edu/events or lancastertrust.com/events. We have season memberships, ticket packages and individual tickets available for the season. Our Arts & Culture team can't wait to welcome you!