(This article was originally written for LBC | Capital's Writing for Publication course and appeared in the FOCUS student newspaper.)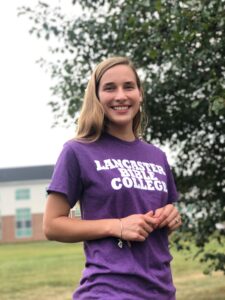 The way Jordan Noll ('21) experienced her calling to be a nurse is an unexpected one. If you were to ask any Christian, they could argue the way Noll was called by God is quite uncommon as it is special.
"When I was younger I didn't want to be a nurse," says Noll. "But I always had an interest in medical things. I loved the stories where people got hurt and someone took care of them."
Now that a dream had finally sprung, a place was needed to take the next steps toward fulfilling it.
"When I got to high school, I already knew I wanted to do the same program my mom did. It was called Allied Health and it was basically nurse aid training," says Noll.
At this tech school, Noll would learn much more about her dream and would refine her skills. "It was a lot of learning how to work in nursing homes and originally I didn't really want to do that," says Noll.
What she didn't know was that her dream would now become her passion.
"But as we actually got to work in the senior centers and nursing homes, there was just something about it that brought me so much joy," says Noll. "I loved being able to do things for people that they weren't able to do for themselves."
But not everything was a smooth ride for Noll. She learned that in every good quest worth enduring, there will be times where we will find a path very difficult to go through.
"I think, because my calling was so clear to me, I guess I just assumed the path was going to be straight," says Noll.
This was the moment where Lancaster Bible College | Capital Seminary & Graduate School appeared as an option—a way to begin a new path.
"My dream was always to go to a four-year nursing school; that was my goal," says Noll. "LBC | Capital was never really on my radar. I figured because I knew my calling I felt like I needed to go straight to it."
By God's sovereignty, Noll was led to LBC | Capital. "But [at first] being here was a challenge because I felt like I wasn't fulfilling God's purpose for me by being here," says Noll.
At some point, Noll came to terms with her current position in God's plan.
"I realized, God had me [at LBC | Capital] for a reason," says Noll. "He wouldn't have opened the door if this wasn't where He wanted me to be."
We might not know what God plans, but we can rest in knowing that He will take care of the details. This was the thinking Noll had to embrace while at LBC | Capital.
"[I believe] where God wants you is where you're going to end up," says Noll. "Even if God has me here, not for myself, I'm here for someone else."
In the midst of not understanding God's plans, Noll has been able to see God's hand as He opens doors for opportunities she could not have imagine before.
"As I've been here, I've been able to see the doors God's opened for me," says Noll. "Whether that'd be to learn fantastic things about the Bible … and being able to completely focus on them without having to worry about super hard nursing classes on the side has been a blessing!"
Noll graduated with an associate degree in Healthcare Management in the Spring of 2021. She is at the other side of the "tunnel," but for her, the journey is just about to begin.
Noll feared her passion for nursing would fade during her time at LBC | Capital. But that wasn't the case, in fact, it was the opposite.
"Almost like distance makes the heart fonder," says Noll. "The longer I've had to wait the more the anticipation builds."
Noll has a passion for mothers and children. With her associate, bachelor's and hopefully master's degree in nursing, she hopes to become a midwife and work in Labor and Delivery.
This specifically is Noll's heart because she feels her calling will not be fulfilled completely in the States. For that, she must go overseas.
"I feel called to the mission field as well," says Noll. "I've always wanted to go to India. But honestly, I will go wherever. I couldn't care less."
Noll recalls one time where she saw pictures of Indian children. "I just remember thinking, 'I want to take that girl and hold her in my arms and tell her that everything is going to be okay. I want to raise her up, teach her about the Lord and make a disciple out of her.'"
When asked about Noll's passion and career, Lavonne Johnson, Adjunct Professor in LBC | Capital's Healthcare management program, shared, "She enters the profession with an open understanding that it is a hard, sacrificial calling, but with a beautiful sense that this type of self-giving life is the most rewarding."
This is the heart of Jordan Noll. Her calling and mission take the first and most important place in her life and she will continue to live and love as God does: fully and with no regrets.
(Carolina Luciano Burgos ('21) is originally from Puerto Rico and is majoring in Communication and Biblical Studies. "I strongly believe it is God's purpose for me to be here in LBC, and I couldn't be happier to walk on the path He has prepared for me. God's path may not be as clear right now, but I know for certain that I would not be the person I am today if I hadn't come to LBC," Carolina says. One of her goals after graduation is to return to Puerto Rico to teach the Bible and to exercise her communication degree in her homeland where it's needed most.)