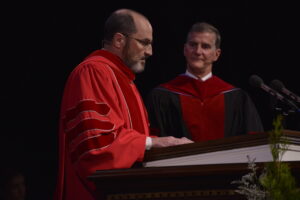 Lancaster Bible College | Capital Seminary & Graduate School celebrated the inauguration of sixth President Dr. Thomas L. Kiedis at a ceremony on April 29 in Good Shepherd Chapel.
Attended by college trustees, board members, administration, faculty, staff, students, family and community, the inauguration ceremony included a keynote address by Dr. Ed Stetzer, Executive Director of the Billy Graham Center at Wheaton College; an investiture ceremony by Trustee Michael W. Van Belle, JD, and President Emeritus Dr. Peter W. Teague, who served as the LBC | Capital President from 1999-2020; and an inaugural response by Dr. Kiedis.
"I am following five Presidents," Kiedis said during his address, "all of whom by God's grace have maintained a steady focus for 90 years: To educate Christian students to think and live a biblical worldview and to proclaim Christ by serving him in the church and society. … To borrow from Lyndon B. Johnson, they did not to hesitate, they did not pause, they did not turn about or linger. They were faithful to that mission. They were faithful to God. They were faithful to their students. … I want to continue that legacy, to remain faithful to our mission. 
"This college – these times – they are too important to simply 'maintain.' No way! Jesus commended the steward who put his master's coins to work, doubling the investment. Jesus commended the sons of this world for being more savvy than the sons of light. The only person Jesus condemned when it came to the resources to which they were entrusted, was the guy who refused to take a risk. I am not going to be that guy. We are not going to be that school. These are no days to play it safe, to coast, and definitely no days to lay down and play dead. We are going to take holy risks for God!
"I am a servant, that's what I am. Given a trust by God to continue leading this wonderful mission of educating Christian students to think and to live a biblical worldview and to proclaim Christ by serving him in the church and society. My service as a president is both similar and different from my colleagues around me. Different because our roles are different, but similar because we are all servants. My service means I take responsibility for the mission as a God-given trust, doing my best in the time the Lord has given me standing of God's Word, before I bow out, in gratitude, with excellence, taking holy risks for the sake of equipping the next generation to live on mission for Christ in this world."
Performing musical selections for the day were guest vocalist Riney Amerson of Boca Raton, Fla., Music Education major Amanda DeKok ('23), the LBC Chorale, the college traveling worship team MBSSY and Samuel Gross, a sophomore Music Performance: Composition major from Sunbury, Pa., who provided an original composition for the occasion, titled "Vision at Night" based on Daniel 7:13-14.
Dr. Thomas L. Kiedis was named LBC | Capital's sixth president on Feb. 1, 2020 following 40 years of service to the church and biblical higher education. Before his presidency, he served as a senior pastor at Spanish River Church in Boca Raton, Fla., where he started in 2007 as the Director of Leadership Development and Church Planting. Previously, Kiedis served as the Dean of the Chapel and Assistant Professor of Ministry at Palm Beach Atlantic University, and for many years as a pastor and church planter. He earned his bachelor's degree from Mid-South Bible College, MARE from Mid-America Baptist Theological Seminary, DMin from Fuller Theological Seminary and PhD in Leadership from Southern Baptist Theological Seminary in Louisville, Ky. Kiedis has had extensive time in the classroom at the undergraduate, graduate and doctoral levels. His roles have included Assistant Professor of Ministry at Palm Beach Atlantic University, Associate Professor of Leadership at Knox Theological Seminary and Adjunct Professor at both Reformed Theological Seminary (Boca Raton) and Capital Seminary & Graduate School. His focus has been leadership and leadership development. He loves to help leaders maximize and multiply their lives and leadership, which he does through teaching, writing and consulting via leaderslifeandwork.com. He and his wife, Shannan, have been married since 1980 and have six married children and 23 grandchildren. They enjoy time with their family, back roads and small towns, photography, and hot rods.
Dr. Ed Stetzer is a professor and dean at Wheaton College, where he also serves as Executive Director of the Wheaton College Billy Graham Center. He has planted, revitalized and pastored churches, as well as trained pastors and church planters on six continents. He has earned two master's degrees and two doctorates and has written hundreds of articles and a dozen books. He is Regional Director for Lausanne North America, is the editor-in-chief of Outreach Magazine and is frequently cited in, interviewed by and writes for news outlets such as USA TODAY and CNN. He is the Founding Editor of The Gospel Project, a curriculum used by more than 1.7 million individuals each week for bible story. His national radio show, "Ed Stetzer Live," airs Saturdays on Moody Radio and affiliates. Dr. Stetzer and Dr. Kiedis enjoy a long friendship borne of mutual respect, deep appreciation for each other and shared participation in God's work through church planting.
Past presidents of Lancaster Bible College have included: Henry J. Heydt, 1933-1953; William J. Randolph, 1954-1961; Stuart E. Lease, 1961-1979; Gilbert A. Peterson, 1979-1999; and Peter W. Teague, 1999-2020.
View the official Presidential Inauguration program here.