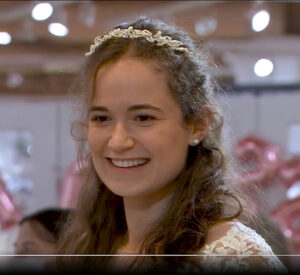 Sierra Gibble ('22) has a lot of details to plan for her upcoming wedding to Daniel Husmann, a mid-air refueler with the Air Force who just returned from Afghanistan.
Now, the wedding dress has been checked off the list.
Sierra is a business major in LBC | Capital's evening in-class program and has just 9 credits to go before her May graduation. She was recently gifted a free wedding dress through Brides Across America and the Camille La Vie bridal shop in New Jersey.
The Operation Wedding Gown initiative aims to provide free wedding gowns to military  and first responders. The story was featured Nov. 10, just before Veterans Day, on WABC-TV in New York.
Watch the story below…
Ten women, including Sierra, were invited to the bridal shop to pick out their dream dress.
"It's been a hard past couple of months with the deployment, so it feels very honoring," Gibble told ABC-7 with a tear in her eye. "I'm very thankful."
According to Brides Across America and ABC-7, "Whether it is for love of country or love at the altar, our frontlines deserve our very best. Planning a wedding can be stressful, so we are here to help. Brides Across America will be honoring active military, first responders, COVID-19 frontline healthcare workers and veterans."
Congratulations, Sierra and Daniel!