Dr. Kurt Miller, Professor and Director of LBC | Capital's online Master of Social Work program, is spending his spring break in Zimbabwe in southern Africa. As a guest lecturer for the University of Zimbabwe Social Work Department, Miller is engaging with social work students on the topics of U.S. Child Welfare Policy and the Child Welfare Practice in the U.S.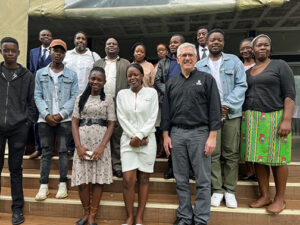 He and his wife, Lora, who also works in the social work field, have a long-standing relationship with The Michael Project. Coordinated through the River of Life Church in Harare, Zimbabwe, The Michael Project focuses on vulnerable and orphaned children. Additionally, Miller is conducting training for The Michael Project staff on the topic of "Empathy through Engagement." Throughout the trip, Lora has also been able to meet with caregivers to encourage them with self-care strategies as well as equipping them with ways to address challenging children's behaviors. Between sessions, the Millers are visiting local preschools to encourage the teachers.
Along with his teaching duties within the master's program at LBC | Capital, Dr. Miller is conducting research titled, "The Impact of COVID-19 on the caretaking of vulnerable and at-risk children, youth and caretakers in Zimbabwe." For this project, he has interviewed social workers, teachers, caretakers and other ministry partners relating to resiliency factors that were present throughout the pandemic.
LBC | Capital's Master of Social Work was one of the college's first fully online master's programs. Launched in 2021, the MSW positions graduates to serve in leadership roles in the fields of social work and professional ministry while uniquely preparing students to competently practice within a biblical framework. The program also focuses on the integration of biblical truth as it equips students to serve Jesus as advanced practitioners. The blend of online learning and personalized residencies with synchronous (active, engaged) and asynchronous (at own pace) components offers students a flexible and learning-focused education.