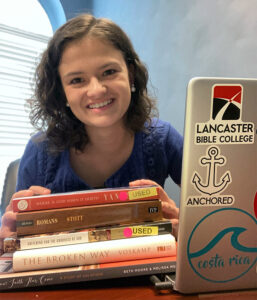 This summer, Stefanie Good ('23) is heading to church much more often than just Sundays. The social work major is interning at her church, Mount Joy Mennonite in Mount Joy, Pennsylvania. Her main responsibilities include guest teaching for youth and adult Sunday School, as well as a women's Bible study on Galatians.
"I have decided to focus the four adult sessions I'm doing on various topics around suffering, and I'll be using a lot of material I learned in Dr. (Joseph) Kim's and Professor (Jonathan '18) Reese's Biblical Theology of Suffering class," Stefanie shared. "The textbooks from the class are great resources as I plan and will definitely be recommendations I include for further study. As believers, I don't think we should shy away from these subjects but instead press in and go deeper."
Because of her social work background, Stefanie was also asked to help with pastoral care, which had originally piqued her interest during her Congregational Social Work class with Dr. Ling Dinse.
"Over the past few weeks, I've conducted a few visits, which range from individuals who have been diagnosed with cancer to families who are adjusting to a new baby in the home," Stefanie said. "I am thankful to be a part of experiences that require both grieving and joy. I have seen how much people are longing for presence and relationship amidst a myriad of struggles, and I believe that the Church can play a vital role in sharing community with a person, even after they feel they've been forgotten.
"A visit or a card can mean so much more than we know," she continued. "Even if you don't know what to say, a listening presence is one of the most important things you can provide. This opportunity has been so beneficial in putting into practice what I've learned at LBC, as I combine compassionate social work skills with the ability to sit with people in the suffering."
LBC | Capital loves seeing our students make an impact in their local churches and communities!