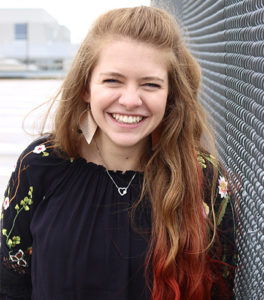 Emma Lown ('20), right, a Communication and Bible major at LBC | Capital, is featured in a new article in Christianity Today about her experience at what the media outlet calls "one of the top Bible colleges in the country."
Alumnus Philip Dearborn ('94), LBC | Capital's former provost who now serves as the President of the Association for Biblical Higher Education (ABHE), the largest Christian college accrediting association in the U.S., is also quoted.
***
Christian Colleges Will Survive,
But Change Is Coming
Business and tech students are forcing the hand of higher education
When Emma Lown entered Lancaster Bible College as a freshman, she knew she wanted to serve God through her vocation, but she did not want to directly work for a church. And even though she enrolled in one of the top Bible colleges in the country, her primary goal wasn't spiritual growth. In the end, Lown pursued a degree in graphic design.
"When I first chose Lancaster Bible College, I wasn't thinking of going to college to grow in my faith," said Lown, now a senior. "I was more thinking I'm going to college to get a degree to further my professional career."
Lown's decision to pursue a secular career path over a more ministry-minded one even while studying at a Bible college is a perfect distillation of the findings from a 2018 Barna Group study, "What's Next for Christian Higher Education? How Christian Colleges and Universities Can Prepare for the Future."
Among its many conclusions, the 18-month study showed that students at Christian colleges and universities are increasingly choosing secular careers such as business administration and teaching over careers in youth ministry or church administration. And, like students attending secular colleges and universities, they place spiritual growth low on their list of priorities when making their college plans. Continue reading…