Do you have questions about how you might continue your seminary or graduate school education at Lancaster Bible College | Capital Seminary & Graduate School? If so, join the club! We sat down with Admissions Counselors to address some of these FAQs. Want to find out more? Give us a call at 866.845.6227 or send us an email at Admissions@lbc.edu.
1. What degrees does LBC | Capital offer?
We offer everything from a graduate certificate to a Ph.D. Check out lbc.edu/capital/academics
2. Does LBC | Capital have 100% online degrees?
Yes, many of our master's level degrees are 100% online [see more here]. Our doctoral degrees require less than 10% of face-to-face learning. The Doctor of Education program is completely online. The online class structure allows you to complete assignments at the times of the day or week that work best for you, while keeping up with your job, family and community service.
3. What are schedules like for hybrid degrees?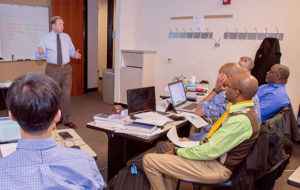 Our classes are hybrid—meaning a mix between on-campus and online learning—or fully online. Typically, students start online, have a few days of in-person residency, then return to online learning. With our hybrid class structure, you can stay connected to your ministry or job while earning your degree without sacrificing that crucial face-to-face, life-on-life component of learning.
4. Does LBC | Capital accept transfer credits?
Yes. Courses must be from an accredited institution and will be evaluated based on program requirements.
5. When is the application deadline?
We have rolling admission for many of our programs. Please contact us at Admissions@lbc.edu so we may share the most current enrollment deadline schedule with you.
6. Can I attend part-time?
Absolutely! Full-time status at the graduate level is considered six credits or more. For our programs, that means taking at least two courses per semester. Fewer than six credits is considered part-time.
7. I know I want to take the next step on my educational journey, but I'm not sure where to start or what I want to do. Can you help?
Yes! We would be delighted to help. You can schedule a personal, individualized appointment at your convenience.
Some of the questions you may want to consider along the way are the following:
What is your goal?
What do you want to do in the near future?
What population would you like to serve?
Do you want to…
Learn more about the Bible?
Become a pastor?
Enter a new job in ministry or a professional field?
Get started at lbc.edu/request-information, call 866.845.6227 to talk through your questions or email Admissions@lbc.edu.