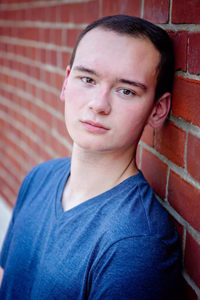 A Lancaster Bible College student recently had the exciting opportunity to perform with a Broadway actress in a virtual production of Jason Robert Brown's "Songs for a New World."
Seth Jerabek ('22), right, who this fall starred in the title role of LBC | Capital's production of "You're a Good Man, Charlie Brown," was a part of the show produced by the Millennial Theatre Company and starring Lisa Howard, who has performed on Broadway in variety shows such as "It Shoulda Been You," "25th Annual Putnam County Spelling Bee" and "9 to 5."
According to LNP | LancasterOnline, the production was filmed and rehearsed independently, allowing performers from two countries and eight U.S. states to participate. "Songs for a New World" is an abstract musical featuring a series of songs and stories connected by the theme of making choices.
Jerabek, an Ashland, Ohio, native and a Musical Theatre and Biblical Studies major and Communication minor at LBC | Capital, shared his experience as part of the unique production.
LBC: How did this opportunity arise?
Seth Jerabek: Since I am originally from Ohio, I heard about this opportunity from an email service I am a part of called NEohioPAL, standing for Northeast Ohio Performing Arts List. Producers from all over the Northeast Ohio Area can submit audition postings and other performing arts-related announcements for people who have signed up for the list.
LBC: What has it been like to work alongside professionals for this production?
SJ: Working alongside professionals for this production has been eye-opening for me. When you first hear that you will be working with professionals, it can be easy to feel intimidated, but I'm glad to say that it was the opposite! Everyone I worked with for this show was so kind and welcoming. This show also gave me the opportunity to network with performers from all over the country, which is a pivotal part of pursuing a career in the entertainment industry. I had several interactions with Lisa Howard, and she is such a kind and genuine person!
LBC: How did LBC help prepare you for this show?
SJ: LBC did a great job preparing me for this show by always treating me like a professional and holding me to the highest standard in my work in an effort to bring honor to God. I actually used this show for one of my internship credits, and I am so happy that I did. This show gave me the opportunity to gain experience in areas of theatre that I usually would not be involved in, including lighting my own green screen and recording my own audio and video. I camped myself out in a practice room one Saturday in LBC | Capital's Good Shepherd Chapel and recorded all my videos in one day. Although it was challenging at times, I am so grateful for the learning opportunities this show brought about and for the opportunity to be part of such a unique production in an uncertain time for the theatre industry.
For information about purchasing tickets to stream "Songs for a New World," visit millennialtheatre.org.