(Reprinted from the Fall 2020 ECHO Magazine.)
This spring, LBC | Capital President Dr. Thomas L. Kiedis announced three exciting Presidential Cabinet appointments that will help take the college into the future.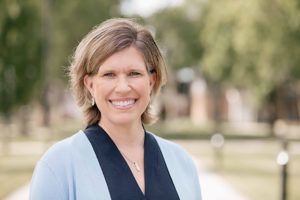 In March, the college established a search committee to find the next LBC | Capital Provost. During this time, Associate Provost Tricia Wilson was asked to serve as Interim Provost. Wilson, who has worked at LBC | Capital for six years in both student services and academics, accepted the post while continuing work on her Ph.D. in Higher Education at Azusa Pacific University. Within a week of this appointment, the COVID-19 crisis struck, and Wilson faced the task of moving LBC | Capital to remote teaching and learning in a matter of days.
"Tricia's work then and now is nothing short of remarkable: change agent, crisis leader, team collaborator and a deep walk with the Lord," Kiedis said. "Leadership steadies the troops, points them toward the objective and encourages them practically and tactically. Tricia has become our academic general. She listened, built relationships, worked collaboratively, thought strategically and communicated effectively. In the end, other institutions aspired to be remote ready; we were remote ready."
Kiedis added that Wilson is a leader who understands LBC | Capital's culture and challenges and can help map a plan for the future. With the enthusiastic support of the Executive Committee of the Board of Trustees, Wilson was named LBC | Capital Provost effective May 1.
Wilson brings a breadth of insight and expertise in student affairs, student services, human resources and academics through past experience in multiple sectors of higher education, including state colleges, community college and Christian higher education. In addition, Wilson has served in church ministry alongside her pastor-husband and professionally as Director of Christian Education.
She earned a bachelor's degree from Northwestern College in Christian Education and a M.S. from Western Illinois University in College Student Personnel. Through her doctoral work, she is actively participating in research dedicated to student, faculty and institutional thriving. Wife to Michael and mother to three, Wilson enjoys playing piano, singing and hiking.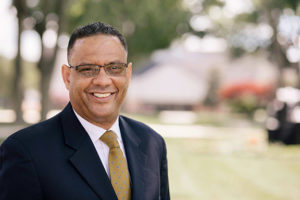 With Wilson's appointment, Kiedis also created a new Cabinet position, Vice President of Institutional Alignment, to lead a critical function in moving from crisis to innovation. In this role, the Rev. Zachary Ritvalsky, formerly LBC | Capital's Philadelphia Site Director, will lead efforts to assess, create, maintain and enhance strategic alignment as LBC | Capital migrates rapidly to an educational model that is missionally focused, biblically integrated, student-focused, organizationally aligned, tactically flexible and highly collaborative across all locations.
"This new position will help LBC | Capital exemplify premier institutional cohesiveness and flexibility and become a leader in collaborative partnerships in biblical higher education on national and international fronts," Kiedis said. "Zack's corporate background as a systems expert, combined with his pastoral experience and stellar Site Director performance in Philadelphia, will serve us well. His ability to assess, diagnose, plan and work with others across operational lines is more than impressive."
In addition to his roles at LBC | Capital, Ritvalsky has served as pastor of Sweet Union Baptist Church in Philadelphia for over 10 years. There, he was instrumental in forming Philadelphians Organized to Witness, Empower and Rebuild (P.O.W.E.R.), a social justice ecumenical organization comprised of more than 40 faith communities. Ritvalsky also oversaw the opening of the Carroll Park Center for Hope, Help and Healing, which provides legal, housing and job placement services to residents of West Philadelphia. Additionally, Ritvalsky worked alongside community members to form the HMC2 Realty Development Corporation, a for-profit real estate development company financed, owned and operated by local community residents.
Ritvalsky earned a Master of Arts degree in Theological Studies from Westminster Theological Seminary and also held positions of increasing responsibility with several corporations, including LF Driscoll, Bristol Myers Squibb and Ernst & Young. He has been married for over 25 years to Cherie, and they have two children and two grandchildren.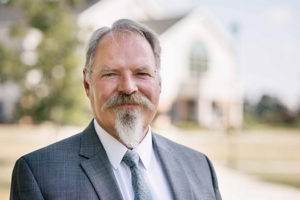 Also announced this spring was the promotion of Dr. Lee DeRemer to Executive Vice President, a role to support the president through representation and problem resolution, strategy development, strategic planning, special project leadership and selected department oversight. DeRemer will help facilitate presidential and institutional effectiveness through load sharing, private counsel and strategic management. The EVP focuses on the internal workings in a way that enables the president to give more attention to global and external matters.
"Many have witnessed Lee's impact in his previous role of Vice President of People & Culture," Kiedis said. "Lee is a respected leader with his own trademark blend of intelligence, humility and compassion. He served our country for 26 years in the Air Force as a pilot commander and Pentagon strategic planner, retiring as Colonel. Lee has vast experience, a heart of gold and is absolutely one of the most effective and, at the same time, humble leaders I know."
DeRemer holds a Ph.D. in Values-Driven Leadership from the Center for Values-Driven Leadership at Benedictine University, as well as masters degrees in Public Administration, Strategic Studies and National Security. He has taught leadership, organizational culture and strategy at the doctoral, graduate and undergraduate levels and has also led a leadership and strategy consulting team in Washington, D.C., for the Booz Allen Hamilton company.
Additionally, DeRemer is the founding director of LIFECYCLES, a 501(c)(3) Lancaster-based youth bicycling ministry that reaches teens across socio-economic, racial and geographic lines. He is an elder at Community Fellowship Church in Lancaster, and he and his wife, Marcie, have two married children and two grandchildren.